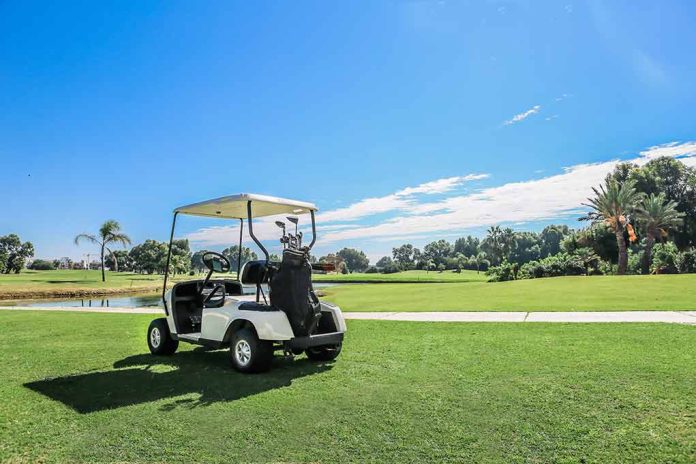 (NewsSpace.com) – Many people own golf carts. They serve a purpose, even off the course, making it easy for people to get around on larger properties. However, they are still dangerous vehicles, and should only be operated by those who know how to navigate them. Sadly, a child driving one ended up killing his brother.
On Monday, July 17, a three-year-old boy was driving a golf cart on private property in Fort Myers, Florida, when he collided with his seven-year-old brother, who was standing in front of the residence. The children's parents rushed the injured boy to the hospital, but he later died from his injuries. The three-year-old wasn't injured, but authorities noted he wasn't wearing a seat belt or helmet while operating the cart. Law enforcement is investigating the incident. Whether charges will be brought remains yet to be seen.
Chyenne McKenny, who works across the street from where the accident occurred, noted that she had seen children always riding the carts on the property, which belongs to Araceli Valdez Arrez and Eris Medrano Jimenez. According to USA Today, she said, "It's a very sad situation," and expressed empathy for the parents, having children herself.
Sadly, accidents involving children driving golf carts aren't rare. A 2021 study from the American Academy of Pediatrics designed to raise awareness about the risks involved notes that the past few years have seen an uptick in injuries, half of which involved kids 12 years and younger. More than 63,000 injuries were noted during the study period, which encompassed a decade. While most were superficial, some children ended up with fractures and dislocations.
A new Florida law mandates operators be at least 15 years old with a learner's permit or 16 with a driver's license if they're driving on public roads, but it doesn't define age limits for use on private property.
Copyright 2023, NewsSpace.com