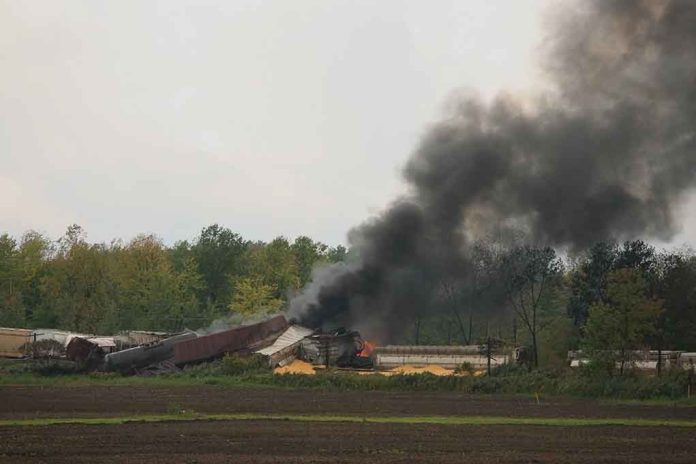 (NewsSpace.com) – On Friday, February 3, a Norfolk Southern train derailed in East Palestine, Ohio. Making matters worse, it had toxic chemicals onboard, and authorities had to execute a controlled burnoff of the toxic agents a few days after the accident to avoid an explosion. In the aftermath, the Environmental Protection Agency (EPA) visited the area to test the soil, water, and air and conduct a cleanup. Just a few days after the derailment, the EPA was saying the air and water were clean despite residents' insistence that something was wrong. Now, it appears scientists are saying the federal agency is wrong.
What the EPA Is Saying
On February 17, EPA Administrator Michael Regan spoke with ABC's "GMA3" about the ongoing circumstances in East Palestine. He started out by saying that officials from the local, state, and federal governments all worked together to coordinate a timely response. When asked about the air quality, Regan said the agency employs advanced technology in its air quality monitoring and that if the residents' homes have been tested, he is "confident … the air is safe." He went on to say that Ohio is leading the charge in terms of water safety, and he trusts what Governor Mike DeWine (R) has to say, and he "trusts what the science is saying."
The EPA is continuing to monitor the levels of 79 different chemicals in the region.
Scientists Contradict the Findings
Scientists from Carnegie Mellon University and Texas A&M, however, have a different opinion. They used the EPA data available to carry out an analysis, and what they reportedly found is that the levels of at least nine different chemicals are higher than normal in the area.
Update (2/3) Compared to EPA National Air Toxics data (NATA 2014), some concentrations in East Palestine (OH) for 9 out of ~50 chemicals EPA reported are higher than "normal." If these levels continue, they may be of health concern (especially acrolein). pic.twitter.com/q4jyxS45Lu

— Texas A&M Superfund Research Center (@tamusuperfund) February 24, 2023
One particular chemical of note that has researchers worried is a hazardous substance, acrolein, which is found in smoke. At the recorded levels, according to the data, the current concentrations could cause long-term effects. The Washington Post reported that a Texas A&M scientist, Weihsueh Chiu, noted that it would take long-term exposure — i.e. months or years — to cause those effects, but the data isn't showing context. The EPA says levels won't remain high enough for that length of time.
Associate professor at the Johns Hopkins Bloomberg School of Public Health Keeve Nachman raised another concern. He said there's little information on how those contamination levels will change over time. Therefore, there's little confidence in evaluating the "potential risks." Albert Presto, a research professor at Carnegie Mellon University, echoed those sentiments, adding that they "don't know the health impact of a more chronic, low-level exposure."
Copyright 2023, NewsSpace.com