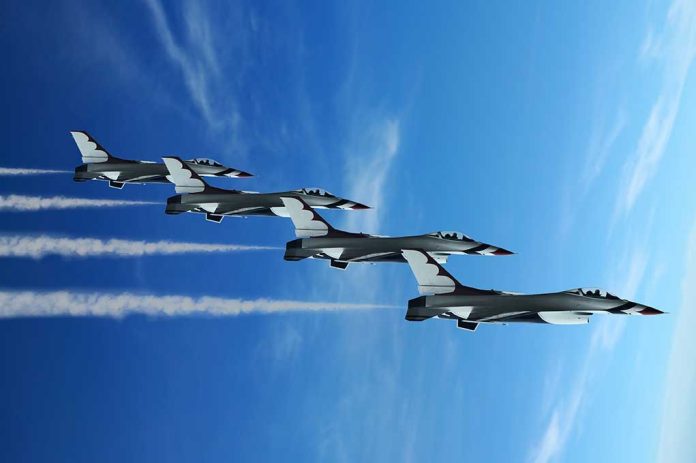 (NewsSpace.com) – The artificial intelligence boom has a lot of people across the world concerned. It's made its way into several industries, including the creative arts, where it's widely used for writing, drawing, and music-making. However, AI is proving to have even more uses, and now, the Air Force has harnessed it in a most unusual way.
In an August 2 press release, the Air Force Research Laboratory (AFRL) announced that the month prior, it had successfully led a three-hour sortie — a combat mission — with one of its XQ-58A Valkyrie aerial vehicles using nothing but "AFRL-developed, machine-learning trained, artificial intelligence algorithms." The algorithms were developed through a combination of efforts, including millions of hours of simulations, multiple sorties using the X-62 VISTA, ground test operations, and Hardware-in-the-Loop events using the XQ-58A.
The Department of Defense acknowledged the successes, with AFRL Commander Brig. Gen. Scott Cain relaying the technology "will be a critical element to future warfighting" but it will require the aid of "government, academia, and industry partners" in order to harness it properly. The July 25th flight was conducted in partnership with the Autonomous Aircraft Experimentation and Skyborg Vanguard programs. The latter is part of the US Air Force's (USAF) efforts to develop an AI-enabled system to help fly the branch's aircraft. It has the ultimate goal of using the low-cost, unmanned aerial vehicles to complete an air formation led by a piloted jet.
The XQ-58A Valkyrie has an onboard computer system that not only follows commands but has the capability of determining the best throttle settings and flight path to take in order to carry out those instructions.
This isn't the first time AI was used to fly military aircraft. In December, a VISTA X-621, which is modified from the F-16 fighter jet, flew 17 hours unmanned, according to a press release by Lockheed Martin.
Copyright 2023, NewsSpace.com