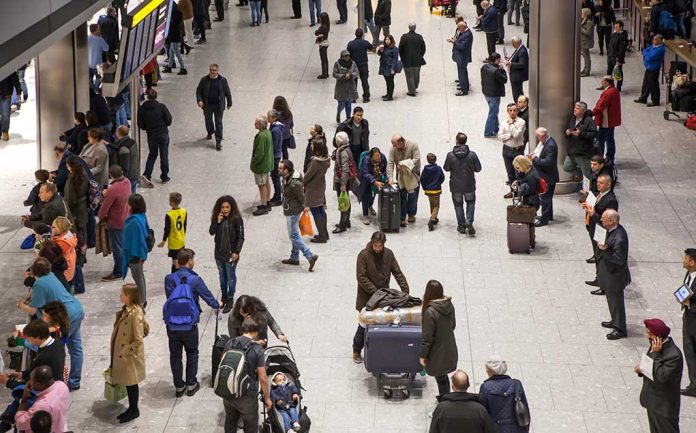 (NewsSpace.com) – Florida is known for its bouts of torrential rain — they occur nearly daily during the summer months. Most times, it's a short-lived event. However, Fort Lauderdale got more than it bargained for with storms that rolled in on April 12. They essentially shut the city — and its airport — down.
The storms brought in over two feet of rain, causing widespread flooding throughout South Florida in what experts say is a "1-in-1,000-year event," according to The Guardian.
There were areas of South Florida that received prolific rainfall amounts yesterday, with the highest amounts of over 20 inches in coastal Broward County. Here is a map of the preliminary rainfall reports for 24 hours ending this morning.#flwx https://t.co/Ttl2lmxCOU pic.twitter.com/5LIPDVedqr

— NWS Miami (@NWSMiami) April 13, 2023
Streets were shut down, cars were abandoned in the water while their drivers escaped to higher ground, and all flights coming in and out of Fort Lauderdale International Airport (FLL) were either significantly delayed or canceled. The parking garages at the airport were also flooded, and roads in and out shut down, making it impossible for people to leave or rent a vehicle to drive home after being stranded when operations ceased. Many had to spend 24 hours or more at the airport, leading to lots of frustration.
Travel #alert (Update No. 3): #FLL is closed to flights & roadway traffic until further notice due to the ongoing heavy rainfall & flooding on the entrance & exit roadways. Again, please do not try to enter or leave #FLL at this time. Check your airline for revised flight status.

— Fort Lauderdale-Hollywood Int'l Airport (FLL) (@FLLFlyer) April 12, 2023
Eventually, Florida declared a state of emergency, and the airport shut down completely from April 12 to April 14. People were also advised to stay off the local roads until they had been cleared. According to the city, crews were deployed to help rid the roads of water, and vacuum trucks were busy at work, helping the process along. Volunteer teams and the Red Cross were established to help people who needed assistance while city crews were doing damage assessments of homes affected by floodwaters.
On the morning of April 14, the Florida Division of Emergency Management issued an update saying that the storms spawned two EF-0 tornadoes, one of which struck just southwest of FLL. Schools in the county and Broward Airport also closed while cleanup efforts commenced.
FLL resumed flights on April 14. Broward schools reopened on Monday, April 17.
Copyright 2023, NewsSpace.com