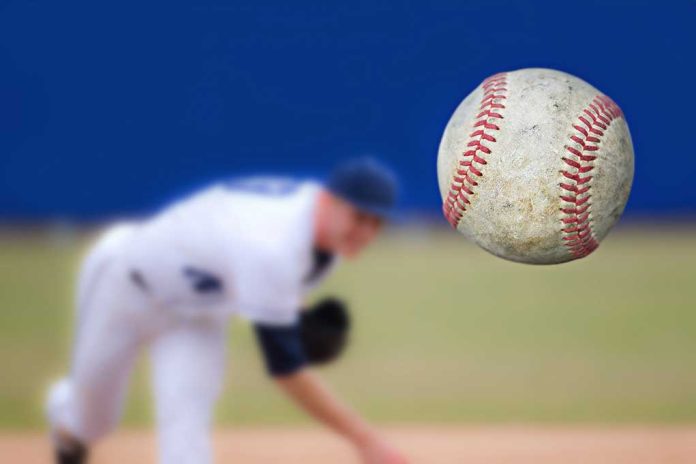 (NewsSpace.com) – Playing a baseball game comes with some risk of injury, notably, pulled muscles or the potential to get hit with the ball. What one doesn't expect is to get shot, especially not while standing in the bullpen. But that's exactly what happened to an 18-year-old collegiate player recently.
On Saturday, April 29, the University of Houston-Victoria and Texas A&M-Texarkana were playing a game at Spring Lake Park in Texarkana, Texas. One of the home team players, Matthew Delaney, was standing in the bullpen area when he was suddenly struck in the chest with a bullet. According to a Facebook post by the Texarkana Texas Police Department, the game was immediately called, and Delaney was transported to St. Michael Hospital, where he underwent surgery.
Texas college baseball player shot by stray bullet in bullpen during game https://t.co/EwQVrZxVKf pic.twitter.com/NB7aY7vLo2

— New York Post (@nypost) May 1, 2023
An update the next day revealed that the gun wasn't fired at the field. A shooting happened on Lynda Street, which is just west of the park where the game was underway. The police were responding to that shooting when they received the news about the baseball player and quickly tied the two together. Detectives worked through the night, collecting evidence and speaking with witnesses. From there, they were able to identify two suspects: 20-year-old Demarco Banks and 17-year-old Kamauri Butler. The police department issued felony warrants for both, who were arrested the following day, when they turned themselves in. Authorities charged Banks with deadly conduct, while Butler is facing aggravated assault charges. Police also arrested several others for possession of firearms and drugs in correlation with that investigation.
Delaney is reported to be in ICU as of the time of writing, but his condition is improving. According to ESPN Reporter Dave Wilson, who spoke with Delaney's mother, he has "partial paralysis in his left leg, a collapsed lung and broken vertebrae." The bullet is still lodged in his body close to the spine, making it tricky to remove.
Copyright 2023, NewsSpace.com