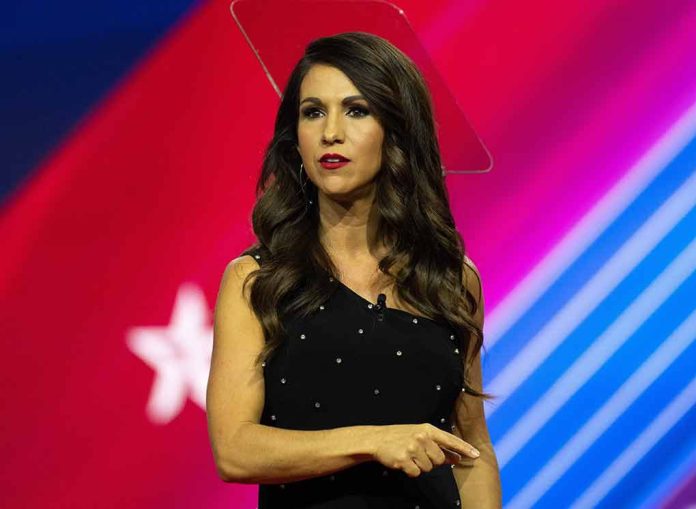 (NewsSpace.com) – Rep. Lauren Boebert (R-CO) is no stranger to controversy. She's drawn a lot of it in her time in Congress so far. The most recent event took place at a Denver theater when she and her companion were asked to leave for being obnoxious. She received a mixture of backlash and support in the days afterward. Now, her husband has come to her defense.
Earlier this month, Boebert was asked to leave a performance of "Beetlejuice" after several patrons of Buell Theatre complained she and her companion were singing obnoxiously, vaping, and overall "causing a disturbance." While she admitted to singing, laughing, and having a good time, Boebert initially denied vaping. However, video evidence from the theater proved otherwise, sparking an apology from the Colorado rep.
In a statement, Boebert attributed the behavior to "going through a public and difficult divorce," which she says has provided its own challenges for her family. She said her actions weren't "intended to be malicious or meant to cause harm," but expressed her regret that they did.
Her husband, Jayson Boebert, also posted on social media in her defense, going into detail about the divorce the two are going through and asking people to "show grace and mercy" toward her and giving her the opportunity to "earn [peoples'] forgiveness and regain trust." He said he "broke her down" in a multitude of ways and accepts responsibility for that — and he says the divorce is entirely his fault for being "unfaithful to Lauren in so many ways."
The incident came at a time when appearances are everything, especially considering that Boebert only won her 2022 election by less than 600 votes. According to Insider, her constituents are already fed up with her antics. She's up for re-election again in 2024, and if she loses, it could cost the House GOP its majority.
Copyright 2023, NewsSpace.com