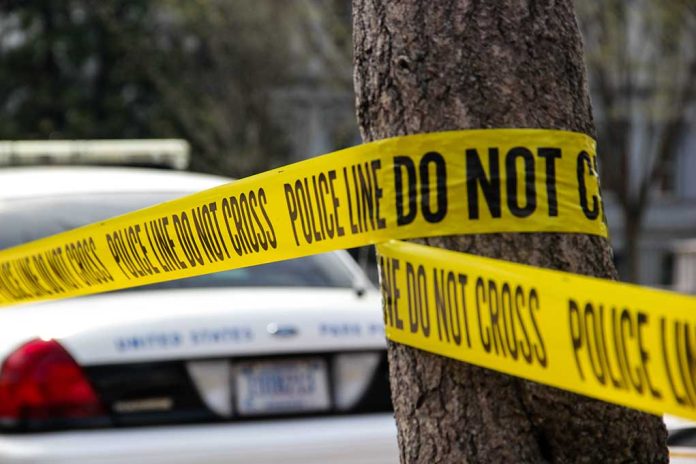 (NewsSpace.com) – When a couple gets married, it's typically one of the happiest days of their lives. They celebrate the start of their new lives together with friends and family and then head off to their honeymoon. Unfortunately, for one couple, what should've been a beautiful moment to look back on also became one of the most tragic.
On Friday, April 28, Samantha and Aric Hutchinson tied the knot in Folly Beach, South Carolina, in what her friend Ashley Favret told WBTV was "everything she had dreamed for that day to be." But the perfect day came to a horrific end. As the couple left the reception on a low-speed vehicle (LSV), they were rammed from behind by a vehicle going 65 mph, 40 mph over the posted speed limit, throwing the cart more than 100 yards and causing it to roll numerous times. Samantha was declared dead at the scene of the accident, while her new husband Aric is in the hospital in serious condition, with a brain injury and broken bones.
In addition to the bride and groom, there were two other people on the cart. Both are hospitalized as well, with serious injuries.
It turns out the driver, 25-year-old Jamie Lee Komoroski, was allegedly drunk. Her Instagram account is full of pictures and captions centered on drinking, including her in a costume in 2018 dressed as "Bud Lightyear." She donned arm and leg bands with the words "Bud Light" on them.
Komoroski refused to cooperate with authorities and take a sobriety test. She was subsequently charged with three DUIs resulting in great bodily injury or death, all felonies, and a single count of reckless homicide. The DUIs each carry a maximum prison sentence of 15 years while killing someone while driving intoxicated can result in up to 25 years in prison. If convicted, Komoroski is likely to spend decades behind bars.
She's currently on suicide watch.
Copyright 2023, NewsSpace.com