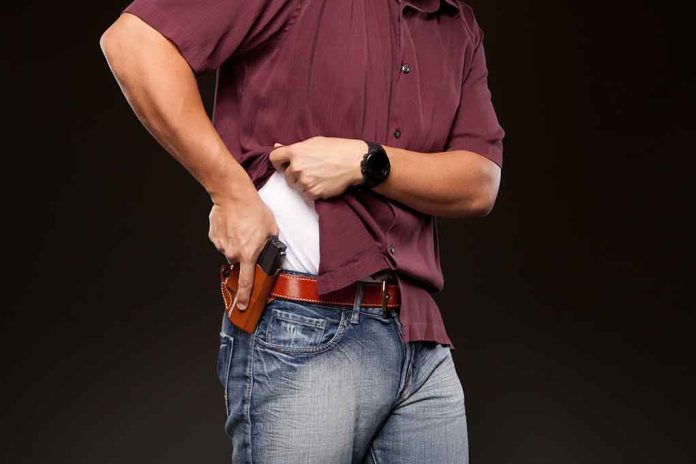 Alleged Kidnapper Held at Gunpoint After Assaulting Child
(NewsSpace.com) – A group of people waiting to get their oil changed at the Walmart in Warner Robins, Georgia, watched a scene go down in the parking lot that some just couldn't ignore. A man in his 60s grabbed a child from a car and dragged him into the woods right before their eyes. One man, unwilling to let the child's screams go unanswered, grabbed his gun and went to help.
Andy Vermaut shares:Georgia man holds suspected kidnapper at gunpoint until police arrive: Kelcey Willis intervened in what appeared to be an attempted kidnapping at a Walmart,… https://t.co/NLza7as7Ob Thank you. #ThankYouJournalistsForTheNewsWeGetFromYou #AndyVermautThanksYou pic.twitter.com/Q5mwnFqq4U

— Andy Vermaut (@AndyVermaut) November 12, 2022
On November 7, WGXA aired an interview with Kelcey Willis — a bystander quickly turned hero. As police received calls from others of a possible kidnapping in progress, Willis found the man on top of his alleged victim, choking him. The hero took the child and held the man at gunpoint until police arrived.
WGXA noted in its story that several people were there to help rescue the child. Willis said the child told him his relative "was going to beat him and leave him for the animals." If not for the quick response, the boy said he would likely be dead.
The Warner Robins Police Department released a statement confirming the incident, but clearing up some of the facts. They learned the alleged attacker, 67-year-old Haimnarine Doobay, was related to the child. Cops charged him with aggravated assault and cruelty towards a child. His alleged victim went for further assessment and care at the Houston County Sheriff's Office juvenile department.
Copyright 2022, NewsSpace.com