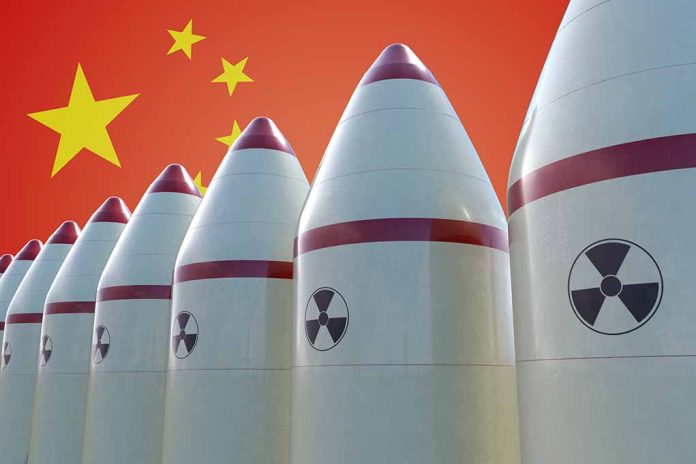 China Seeks to Dramatically Scale up Nuclear Arsenal
(NewsSpace.com) – China has the plan to rejuvenate itself by the year 2049. That year, on the 100th anniversary of the creation of the People's Republic of China (PRC), the country hopes to present itself with a strong military, persuasive politics, and unified territories. Achieving its plan, according to a report from the Pentagon, requires an increase in the Asian nation's nuclear arsenal, and not necessarily just for defense.
CHINA'S NUCLEAR PROGRAM: The Pentagon warns that China is on pace to more than triple its nuclear warhead stockpiles by 2035#NextRevFNC @SteveHiltonxhttps://t.co/PyCcP0shOA

— The Next Revolution (@NextRevFNC) November 29, 2022
On November 29, the Department of Defense (DOD) released its annual report to Congress on "Military and Security Developments Involving the People's Republic of China." The assessment lays out a timeline that gives the PRC until 2027 to reclaim Taiwan, which means it'll need to increase its military capabilities. The country also calls for a military completely modernized and prepared to move into the future.
The country also plans to institute a "Military-Civil Fusion" approach that will integrate China's public and private sectors, fusing defenses with civilian and industrial technology. The plan also looks at leveraging civilian services for military use, which could very well materialize into involuntary conscription.
A senior US defense official speaking to Fox News on background said the PRC has lofty hopes that may be out of reach. Unfortunately, whether it attains its ultimate goal of a socialist centennial or not, stepping up its nuclear arsenal for a possible show of muscle in Taiwan is a near-must for China.
Copyright 2022, NewsSpace.com