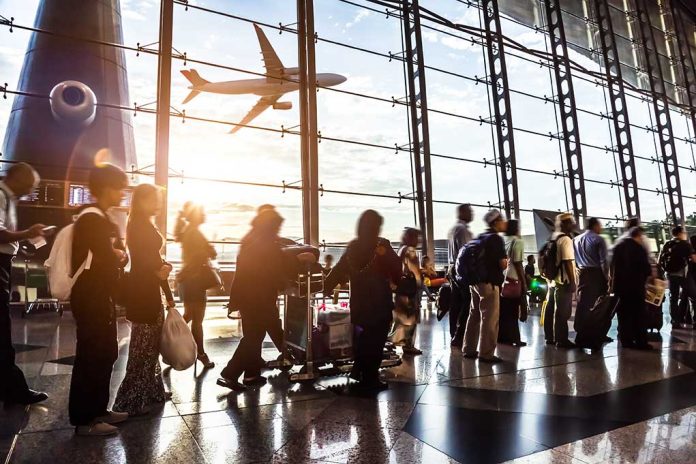 (NewsSpace.com) – The past few weeks have been rife with airplane accidents or near-misses. Two planes narrowly avoided colliding at JFK airport in New York City, and in Nepal, a plane went down, killing everyone onboard. The latest incident involving a commercial airline happened in Indonesia.
On Thursday, January 26, a Lion Air plane, a Boeing 737-900ER, was attempting to take off at Mopah Merauke Airport. As the flight lifted off, it clipped its wing on the terminal building. According to Aviation Source News, the pilot encountered an obstacle and was making his way back to the parking area when the incident occurred.
Both the aircraft and the building's roof were damaged in the accident. A tweet was posted, showing the structural damage; nobody on the plane was injured.
In the act of movement for flight JT797 departure, this 2008 built Lion Air Boeing 737-900 aircraft (PK-LFO) hit its Right hand side winglet to the Airport building structure, receiving damage at Merauke Mopah International Airport (WAKK), Indonesia on 26 Jan. #aircraft #safety pic.twitter.com/XpP0mJbjJR

— FL360aero (@fl360aero) January 26, 2023
After the incident, the aircraft was then returned to the terminal, where people were asked to get off and return to the airport's interior. The passengers were told to wait for more information.
Newsweek reported that Danang Mandala Prihantoro, the airline's corporate communications strategic manager told the Indonesian newspaper Republika that authorities and Lion Air are investigating the incident.
Despite the number of stories in the news lately, air travel remains safe. According to a 2022 report by Statistica, global fatalities in the sector have been on a mostly downward trend. For example, in 2006 and 2009, there were 905 and 943 deaths, respectively. However, those numbers sharply dropped over the next few years, reaching the lowest of all reported deaths in 2017 (59). The analysis revealed that the downward trend is especially "notable given that the volume of passenger air traffic has increased by more than 66 percent since 2004."
On average, the Federal Aviation Authority (FAA) manages 45,000 flights per day, and there are more than 10 million scheduled per year. At peak times, there may be as many as 5,400 aircraft in the sky over the United States.
Copyright 2023, NewsSpace.com