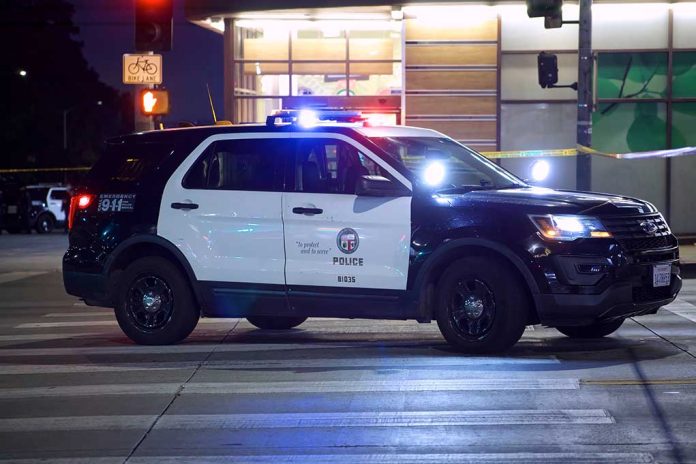 (NewsSpace.com) – Police officers encounter criminals daily and never know what they will run into at any particular moment. Some cases are more challenging than others, especially when they involve an uncooperative suspect. A Long Island police officer recently had to take drastic measures to handle a gunman.
On Tuesday, August 15, Nassau police were called to the scene of a 7-Eleven, where reports said a woman was wielding a weapon at a busy intersection. When they arrived, they found 31-year-old Kiber Calderon, from Brooklyn, waving a gun. The suspect allegedly pointed it at people driving by, himself, and the cops who responded to the scene. Instead of drawing his own weapon to shoot at the suspect, the police officer used the department SUV he was driving and sideswiped Calderon.
That action disarmed the suspect, which allowed other officers to move in and neutralize him. They recovered a loaded gun and arrested the suspect on the scene. He was later charged with nine offenses, including criminal possession of a weapon and drugs, reckless endangerment, and menacing. Calderon also uses the alias of a 33-year-old woman Hanna Carillo, though he identified himself as a man while speaking with authorities.
According to Nassau County Executive Bruce Blakeman, when he asked the officer why he used his vehicle instead of his weapon, the officer said, "If [he] fired and [he] missed, there were people standing behind him." NYPD veteran Steve Nasta agreed with the use of the SUV to take Calderon down. Speaking with CBS News, he said training typically deters officers from using their cars, but in this case, "there was no other alternative."
This incident isn't the only time Calderon has been in trouble with the law. He has other charges in New York City, including trespassing and multiple burglary offenses.
The officer who took Calderon down is on sick leave following hospitalization for trauma stemming from the incident.
Copyright 2023, NewsSpace.com