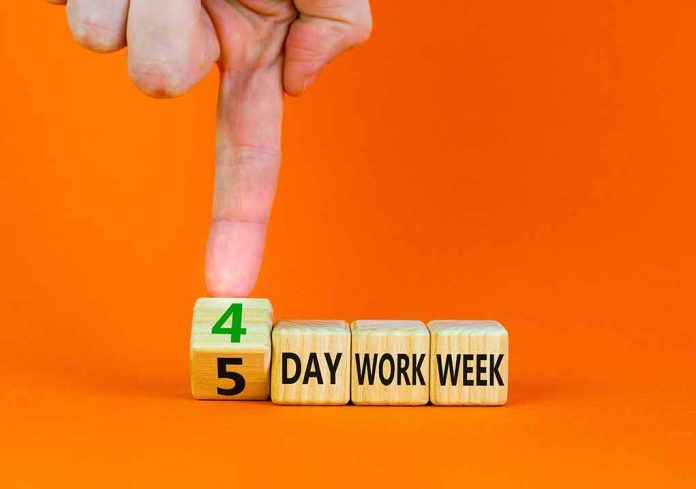 (NewsSpace.com) – In 1938, the Federal Fair Labor Standards Act created the 40-hour work week that Americans have come to know. Over the past several years, however, it's become a point of contention that many people are burning out in the workplace. One lawmaker has an idea that could see a reduction in hours, without a reduction in pay.
State Rep. G. Roni Green (D-PA) believes that a four-day workweek is the answer to employee burnout. She is pushing legislation that would reduce the standard number of hours worked from 40 to 32. In addition, employees would receive the same pay. However, the legislation isn't aimed at all businesses, just large companies that have 500 or more workers.
According to Fox News, Green said she believes a four-day work schedule would give people "more time for rest, family obligations, and focus on both physical and mental health." She said the act created in 1938 no longer meets today's societal needs. She credits advancements in technology with helping to reduce the time spent on tasks, thus increasing productivity.
The proposal is receiving mixed reviews. Fox News contributor Charlie Hurt believes the legislation is for those who are lazy and don't want to work. Raymond Arroyo, who co-hosts "The Big Weekend Show," thinks that despite it being a good idea for some industries, it would put a bigger burden on businesses in other sectors as they would have to hire additional employees to get the workload done.
On the other side of the spectrum, 4 Day Week Global, a non-profit organization that initiated a pilot program over a six-month period, said it reported good results for both employers and workers.
Democratic state Rep. Dave Madsen has proposed the idea of a pilot program in Pennsylvania. That, he says, would give the data the chance to speak for itself.
Copyright 2023, NewsSpace.com