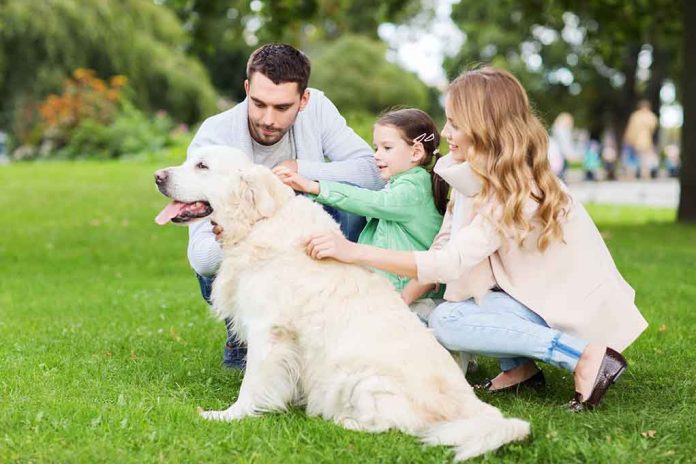 (NewsSpace.com) – Child protective services (CPS) have an important job: to investigate situations and remove kids from homes if they have probable cause to do so. This usually involves gathering evidence — typically, medical records and testimony from witnesses who have seen signs of abuse — but sometimes, things can go horribly wrong. That was the case with Sarah Perkins and Joshua Sabey of Massachusetts, and now, they're suing.
Children Seized in the Middle of the Night
It all started when Sarah Perkins took her 3-month-old son to the emergency room for what was eventually diagnosed as a respiratory infection. When an x-ray, taken to examine the infant's lungs for signs of pneumonia, showed a rib fracture Perkins couldn't explain, a nurse prevented her from leaving, and a police officer showed up outside her hospital door. The Massachusetts Department of Children and Families (DCF) got involved after a report was made about the mother's body language and the baby's injury. While she was eventually allowed to take her son home, things only got worse.
On July 16, 2022, at 1 a.m., DCF and Waltham Police Department showed up at her house and took her 3-month-old and her other child, a 3-year-old boy, into custody. That was after an unplanned visit "failed to raise any concerns," according to Law & Crime. Perkins took video footage of the 3-year-old crying because he didn't want to leave. Sabey and Perkins couldn't get their children back for two weeks. The case was eventually dismissed due to lack of evidence.
The parents weren't happy with the outcome and not only moved out of Massachusetts, but are now suing DCF and local police officers for the trauma they went through. The complaint accuses the authorities of numerous federal civil rights violations, including the unreasonable seizure of their children, an unreasonable search and seizure of the couple's home, and depriving them of their parental rights without due process.
Not the Only Ones
The Sabeys are far from the only parents to have CPS knock on their door in the middle of the night. The same thing happened to Temecia and Rodney Jackson of Dallas, Texas, after they chose to have a home birth with their third child. All went well, but when they took the baby to the pediatrician, Dr. Anand Bhatt, for its wellness checkup, he said all looked well, but he noticed signs of jaundice. The parents agreed to treat the symptoms at home and bought the equipment to do so, but the doctor wasn't satisfied.
Bhatt called the Jacksons at home later that night and said he reserved a bed for the baby girl at the hospital. If they didn't show, he said, he would call authorities to check up on her. Texas Department of Family and Protective Services got involved and took the infant a few days later. It took nearly a month to get her back. Like Sabey and Perkins, the Jacksons have a legal team and are weighing their options.
Copyright 2023, NewsSpace.com