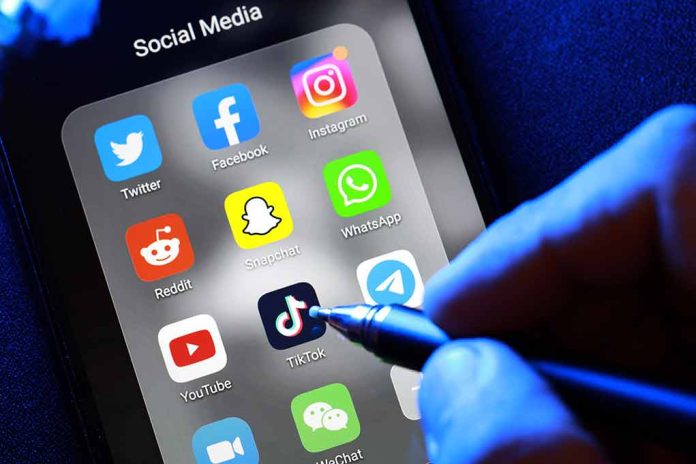 (NewsSpace.com) – On Tuesday, June 27, French authorities attempted to pull over 17-year-old Nahel Merzouk in a traffic stop. He didn't comply, and officers eventually caught up to him. In a shocking turn of events, a police officer shot the teen, killing him. He claimed Merzouk was driving recklessly towards him when he fired the gun, but video footage refuted that allegation. In the aftermath, riots broke out all over France, and more than 40,000 police officers were deployed to rein in the chaos. Now, President Emmanuel Macron is suggesting a new means of quelling violence—and it's garnered a lot of criticism.
Macron's suggestion, which he made during a meeting attended by more than 250 mayors, is to cut off all social media. According to The Guardian, he said officials "need to think about how young people use social networks," and during periods of unrest, they "may have to regulate them or cut them off."
The country's ministers have blamed the use of social media networks for the response to Merzouk's death. They said young people use the platforms to encourage and organize protests and riots.
Macron's statements were not received well by politicians. Socialist Party leader Olivier Faure said such actions would make France more like "China, Russia and Iran," authoritarian regimes that the country has no desire to emulate.
Activists are also speaking out against the comments. Front de Mères co-founder Fatima Ouassak called it a "diversion tactic" and said rather than the country's officials "debating the issue of police violence," they're putting a secondary issue at the forefront of discussions.
The riots have caused a lot of damage all over the country. There have been more than 800 blazes set during the unrest. Businesses have lost over $1 billion, and authorities have arrested thousands of people during the protests and riots.
Copyright 2023, NewsSpace.com