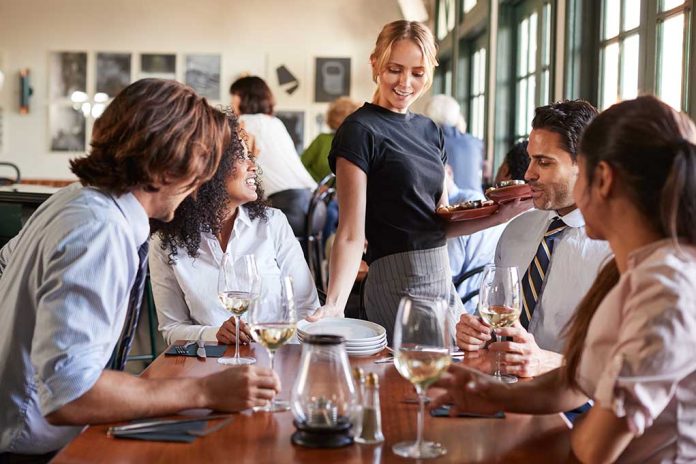 (NewsSpace.com) – When people go out to eat, have their hair done, or order delivery, it's expected that the person providing the service will receive a tip. There's always been a debate about how much they should receive on top of the total, with most defaulting to about 20% for good service. However, that mentality seems to be slowly slipping away, according to a new Bankrate study.
According to the new poll, which was carried out online between May 3 to 5 among 2,437 adults in America, 66% of those surveyed had a negative view of tipping in general. Of this subset, 41% believed businesses should pick up the slack and pay employees a working wage where they won't need to rely on tips to survive. In fact, the number of people who go to a restaurant for a sit-down service and tip has declined 10% since 2021. Of those, at least 44% left their servers a gratuity of at least 20%.
44% of U.S. adults typically tip at least 20% at sit-down restaurants, according to our latest survey. How much do you typically tip? 👇

— Bankrate (@Bankrate) June 21, 2023
Of those surveyed, 30% believed that the tipping culture is getting out of control. Another 16% said they would like to see tipping go away altogether in favor of higher prices.
Tipping has gone down across the spectrum of all services. Like servers at sit-down restaurants, barbers and hair stylists have seen a 10% decline in tips received over the past two years, while food delivery workers and taxi/rideshare drivers have seen a 9% and 8% decrease, respectively, in the same time period.
And the worst tippers tend to be men and Gen Zers (ages 18 to 26), according to Bankrate, where baby boomers (ages 59 to 77) are the best. When it comes to hair stylists and barbers, only 24% of this population tips, as opposed to 70% of baby boomers. Gen Zers are also less likely to tip at a restaurant (35%) and when using a taxi or rideshare service (22%). One area they do tip more than baby boomers is when receiving home services or services.
Copyright 2023, NewsSpace.com