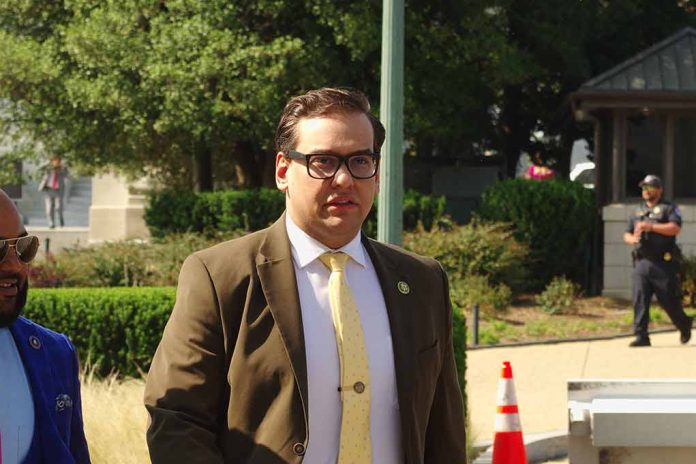 (NewsSpace.com) – Republican Rep. George Santos (NY) is no stranger to news headlines. Since shortly after his election in 2022, many stories have come to light about his alleged lies regarding his career, his humanitarian acts, and his finances. He is facing 13 criminal charges and an investigation by the House Ethics Panel. The congressman recently appeared on CNN and quickly lost his temper.
During an interview with CNN anchor Erin Burnett, Santos tried to wildly deflect from the questions she threw his way. For example, when she rolled a few clips noting his fabrications, he said he wasn't deflecting, before he deflected. Rather than answer Burnett's request for an explanation as to why he lied, Santos asked why CNN wasn't interviewing President Joe Biden about all of the statements he's made in the past 46 years.
lmao CNN put together a highlight reel of some of George Santos's most outlandish lies and confronted him with it. Santos responds by bashing CNN. pic.twitter.com/YltRCVlFkE

— Aaron Rupar (@atrupar) September 12, 2023
Things only went downhill from there.
He refused to answer questions related to the lies that landed him in hot water saying he has covered them "extensively in other interviews and people can see it elsewhere." He also challenged Burnett to "bring up receipts" on reports that he settled a fraud case in Brazil, his home country, that stemmed from an incident 15 years ago. He refused to entertain the topic and said that the network needed "to be better prepared next time" they interviewed him.
Santos is currently facing 13 charges that he was indicted on back in May. The US Attorney's Office for the Eastern District of New York brought seven counts of wire fraud, a single count of theft of public funds, and three counts of money laundering, along with two counts of making materially false statements to the House.
There were reports that Santos tried to negotiate a plea deal with the Department of Justice, but he refuted this. The next status conference on the case is scheduled to take place on October 27.
Copyright 2023, NewsSpace.com