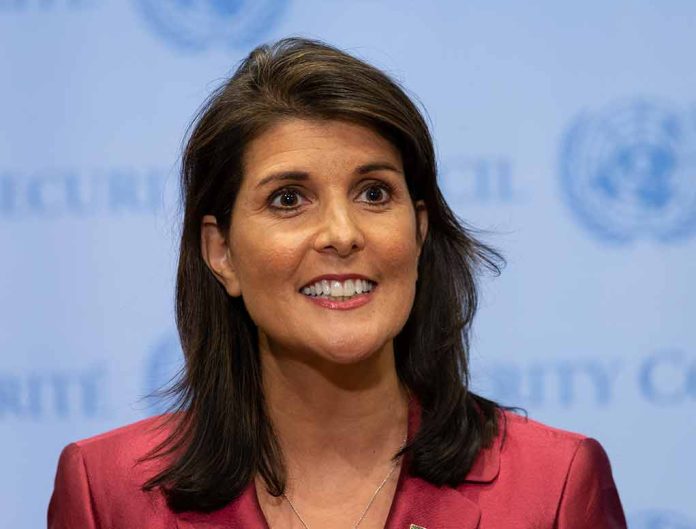 (NewsSpace.com) – The battle for the Republican primary nomination is heating up. The first debate took place last month, and eight of the candidates attended. In the aftermath, they took swipes at each other. Former South Carolina Governor Nikki Haley's campaign is now accusing two of the candidates of "falling over themselves" to be the next Donald Trump.
On Tuesday night, Haley's campaign manager, Betty Ankney, sent a memo to "interested parties," and she noted that the momentum is clearly in the former United States ambassador to the United Nations' favor. She insinuated that some candidates — namely Florida Governor Ron DeSantis and entrepreneur Vivek Ramaswamy — were simply "Trump-lite" in nature. In other words, they're copying the former president in hopes of gaining his voters. Others, she said, are attacking the former president in hopes of gaining favor in the media.
Haley's performance during the first Republican primary debate won her points, especially when she called out Ramaswamy for his lack of knowledge of foreign policy. The two continued to carry on after the debate as well. While Ankney says DeSantis and Ramaswamy "seem to think copying Trump is the path to success," Haley is doing the opposite and "blazing her own path."
As of early September, the polls show Trump still way in the lead, with 59%, according to The Wall Street Journal, despite the number of legal woes he is currently facing. DeSantis is the second closest in the race with 13%, while Haley trails him in third place at 8%.
If any of the candidates have any hope of sliding past Trump for the nomination, they have a lot of ground to make up. There's still plenty of time before the 2024 election, and the next Republican primary debate is scheduled to take place later this month, on September 27. It's not clear whether Trump will attend this one — he declined to attend the first.
Copyright 2023, NewsSpace.com