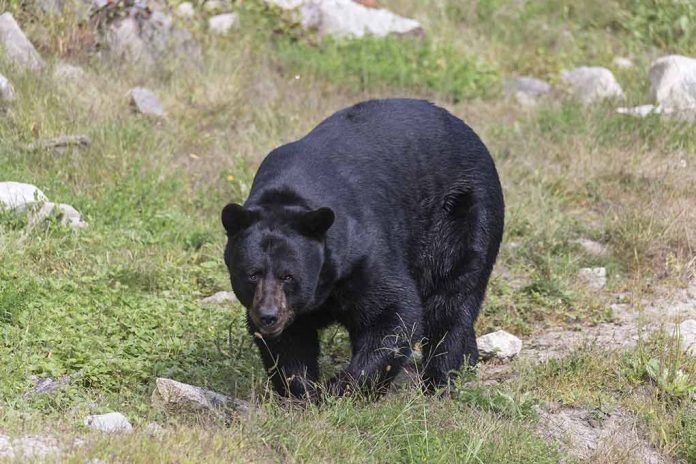 (NewsSpace.com) – A notorious criminal has been on the run for more than a year in California, terrorizing the neighborhood and breaking into homes. More than 20 have been hit since 2022, which has prompted officials to act. This isn't your typical suspect, however. This one has claws and fur and walks on all fours.
"Hank the Tank," a black bear formally known as 64F, has been using her brute strength to force her way into homes in search of human food. Fortunately, on August 4, California Department of Fish and Wildlife officials announced they had finally captured her and used DNA evidence to prove she was responsible for at least 21 of the more than 40 break-ins.
The bear's mischievous actions have gained her notoriety in the area, and despite the very threat she poses to the Lake Tahoe region, rather than euthanize her since the bear is no longer afraid of humans, officials are moving her to Colorado. She was previously immobilized and tagged with a microchip and a satellite tracking collar, which she shucked just a few months later.
Hank, who is an "exceptionally large" bear weighing in at 400 pounds, will find her new home in the Wild Animal Sanctuary, located near Springfield, Colorado. The black bear also has three cubs, which had been following her behavior. The litter will be taken to Sonoma County Wildlife Rescue in California to hopefully learn to "discontinue the negative behaviors they learned from the sow." If so, they will eventually "be returned to the wild." One has been seriously injured and will receive medical care.
It was originally thought that all of the damage and break-ins in the area were the result of a single bear. In fact, it was the work of three different ones. A DNA analysis revealed that the remaining break-ins in the area were the result of two other bears. Officials assured the public that no harm would come to these two, either.
Copyright 2023, NewsSpace.com