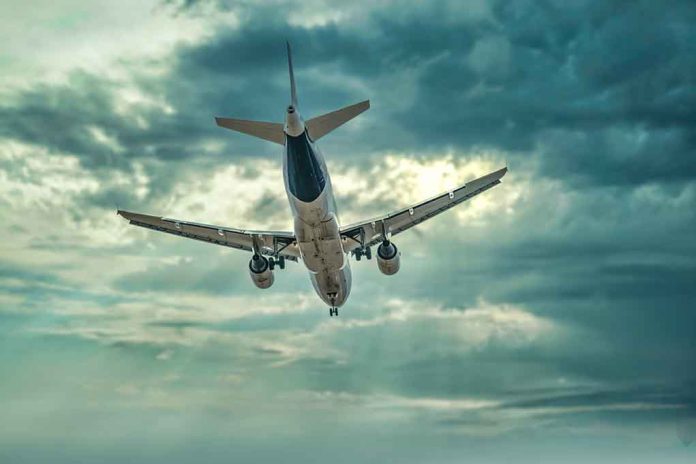 (NewsSpace.com) – Millions of people travel by air each year because of the sheer convenience of landing hundreds or thousands of miles away in just a few hours. However, it's not without risks. While plane crashes are rare these days, there are other issues, such as severe turbulence, that can wreak havoc and cause damage or injury. One actor's wife was recent aboard a flight when exactly that happened.
On Wednesday, March 1, Lufthansa flight 469 was traveling from Austin, Texas, to Frankfurt, Germany, when it hit a pocket of severe turbulence while over Tennessee. The plane, an Airbus A330, dropped at least 1,000 feet suddenly in a free fall, causing passengers' meals to go airborne and land all over the aisles and other people.
Some outlets reported it was struck by lightning. That was just the beginning for the 184 — 12 crew and 172 passengers — on board. The turbulence that ensued was so rough that it not only necessitated an emergency landing in Washington, DC, but it also injured seven people.
One of those people onboard was none other than Camila Alves McConaughey, Hollywood star Matthew McConaughey's wife. She described the situation as "chaos," and shared a short video to her Instagram account showing food all over the aisles.
'The Plane Was A Chaos': Matthew McConaughey's Wife Aboard Plane Struck By Lightning https://t.co/KMgno8PakG pic.twitter.com/PLQozjYISY

— Daily Wire News (@DailyWireNews) March 3, 2023
When the plane landed at Washington Dulles International Airport, crews were ready to assist those who needed medical assistance. The Associated Press reported that the seven injured passengers were taken to local area hospitals with minor injuries, according to Michael Cabbage, a spokesperson for Metropolitan Washington Airports Authority.
McConaughey said she was okay and was thankful to the helpful staff at the Marriot Bonvoy, where she stayed waiting to catch her next flight the following day.
Lufthsana worked to get each of the passengers rebooked on different flights, and the Federal Aviation Administration is investigating the incident.
Copyright 2023, NewsSpace.com