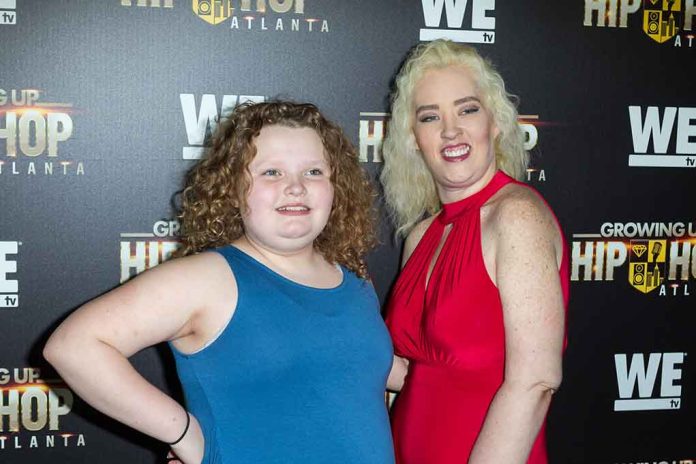 (NewsSpace.com) – Alana Thompson, aka Honey Boo Boo, first drew national attention in 2012, when she appeared on an episode of "Toddlers & Tiaras." Her silly antics made viewers fall in love, and TLC soon offered Thompson her own show, "Here Comes Honey Boo Boo." However, that was short-lived, as the family found itself involved in multiple controversies. Now, the reality TV star is at the center of attention again.
On Tuesday, February 28, Monroe County deputies attempted to pull over a Dodge Charger after discovering the car's owner was wanted by authorities. Instead of cooperating, the driver later determined to be 21-year-old Dralin Carswell, sped off and led officers on a three-mile chase. They were able to stop the car using the PIT maneuver, a move that forces a car to spin out sideways, so the operator stops.
When authorities approached the Charger, they found two other passengers, one of which was 17-year-old Thompson, who happens to be Carswell's girlfriend. Police searched the vehicle, found drugs, and arrested the driver, charging him with a DUI. Another passenger, identified as Julian Malik Divon Williams, was also arrested for outstanding warrants against him.
The boyfriend of Alana Thompson — AKA Honey Boo Boo — has been arrested for DUI … following a police chase with Alana riding in the same vehicle. https://t.co/5Hq5QDsZZc

— TMZ (@TMZ) March 2, 2023
As for Thompson, TMZ reported that she wasn't taken into custody and is merely a witness in the incident. Her sister Lauryn Shannon, also known as Pumpkin, picked her up from the police station.
There is no love lost between the girls and their mother, June Shannon (aka Mama June). Alana has been living with her sister since she was 15, following Mama June's arrest for possession of a controlled substance and drug paraphernalia. In 2022, Pumpkin was awarded full custody of the reality TV star, and the court dictated that June Shannon pay $800 per month in child support until Thompson turns 18. Mama June is only allowed to visit with Alana if Pumpkin agrees to it.
Copyright 2023, NewsSpace.com