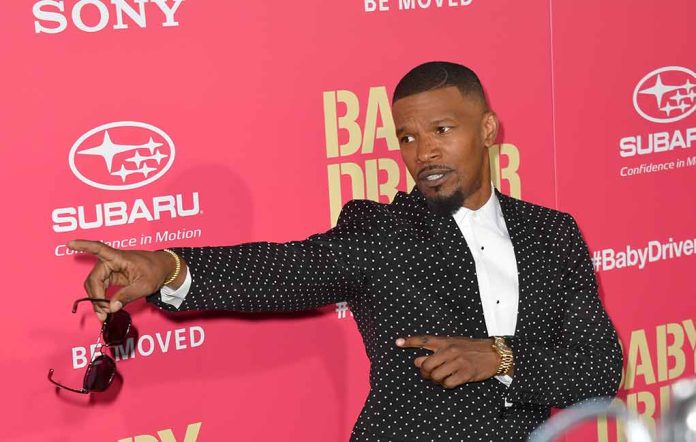 (NewsSpace.com) – Earlier this month, NewsSpace reported that Jamie Foxx was hospitalized on April 11, after he suffered a mysterious medical event. Nothing much was known about the incident except that he was unable to return to work and had remained in the hospital under a doctor's care and undergoing testing. Now, another actor has spoken out about Foxx's condition.
Recently "Entertainment Tonight" interviewed Nick Cannon, who spoke about Foxx and the medical emergency the comedian suffered. Though he didn't elaborate on what the medical emergency was, he did reveal that Foxx is "alert" and "awake," and is "doing so much better," according to Rolling Stone.
Jamie Foxx reportedly "Awake & Alert" & steadily improving at Georgia hospital pic.twitter.com/CO6c8CjWwE

— Daily Loud (@DailyLoud) April 22, 2023
According to reports, Foxx is still hospitalized, which leads one to believe that his medical event was quite serious. During the interview, Cannon said he was on his way to "do something special for him" but wouldn't go into detail, only to say that "it'll be out there soon." He did confirm that Foxx gave him permission to speak about his condition. Cannon also says that he is continuously praying for his friend, who he considers family.
In the last few weeks since Foxx's hospitalization, very little has come out about his condition. It was revealed, however, that the emergency did not happen on set, and Foxx did not need an ambulance to go to the hospital.
Several stars have reached out to the actor and posted their concern and prayers on social media as he remains in a Georgia medical facility under observation. Tracy Morgan, who was critically injured years ago when a Walmart truck hit the limo he was riding in, said he knows all about being in the hospital and just wants "Jamie to please get strong." Steve Harvey was shocked by the event, saying he "was just stunned because of Jamie's fit."
Foxx's representative has not responded to requests for comment on the matter.
Copyright 2023, NewsSpace.com