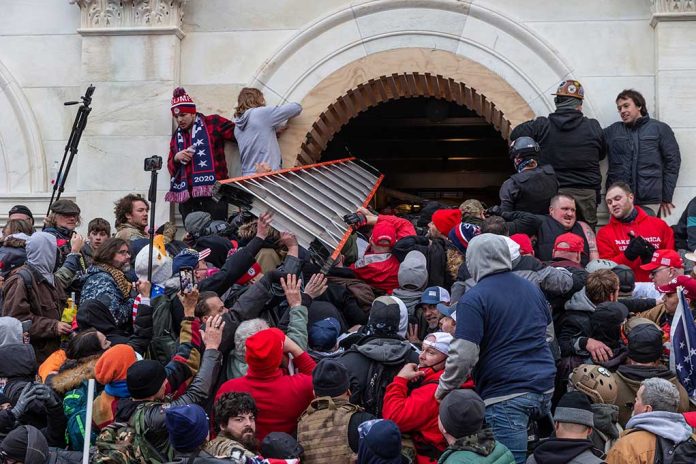 Family of 5 Sentenced for Involvement on Jan 6
(NewsSpace.com) – People from all walks of life converged in Washington, DC, on January 6, 2021. Blue collar and white, man and woman, young and old, thousands participated in an event history will never forget. For one Texas couple, however, the trip paid for with a stimulus check turned into a family of five standing before a federal judge for sentencing.
A Family Affair
Dawn Munn is a firm believer the 2020 election was stolen from former President Donald Trump. She posted to Facebook about the family trip to DC, along with a picture of the troop — mostly dressed in camo fatigues — right before departure. She and her husband, along with three adult children and one minor, joined the crowd that day and climbed into the Capitol building through broken windows on the senate side. While inside, they witnessed confrontations between officers and protesters but decided to stay in the building anyway.
The Munns' time in the city, along with the unlawful tour of the US Capitol, was no secret. They documented their adventures and posted them proudly on social media. Their exploits caught the attention of the FBI, however, and before long, they found themselves facing federal charges.
The dad, Thomas Munn, told the judge at sentencing he wasn't political, and he was caught up with what was happening on the news. A daughter, Kayli Munn, 20, said she wished there was no breach and how they thought they were battling a monster, declining to specify who that might be.
Dawn Munn re-asserted her position stating the 2020 election wasn't secure and that there's a definitive dividing line between conservative and non-conservative values. Kayli and another daughter, Kristi Munn, acknowledged they shouldn't have been there and said they were raised to know better.
Actions Have Consequences
District of Columbia Chief District Judge Beryl Howell handed down 14-day jail sentences to the Munn parents, along with three months of house arrest and three years probation. Their three children, Kayli, Kristi and son Joshua, all received probation terms, with Kristi Munn also getting three months of house arrest. The judge had strong words for the family, calling the events of January 6 a "catastrophic breach" and admonishing their role in attempting to halt the democratic process.
Howell was particularly critical of Kayli Munn, who perpetrated the alleged mistruth that Antifa, not Trump supporters, were the real culprits on January 6. He scolded Thomas Munn for the irresponsible act of leading his family into such a volatile situation. He also reminded the family that in another case similar to theirs, parents received stiff sentences for bringing a child into the building.
Copyright 2022, NewsSpace.com