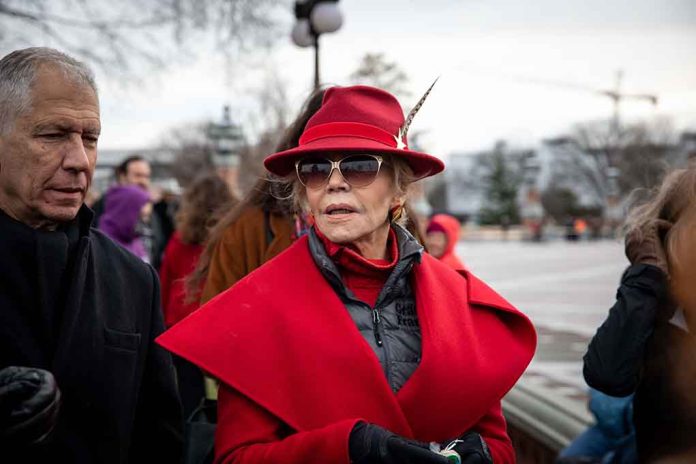 (NewsSpace.com) – Jane Fonda is a famous actress known for her storied career with more than 60 credits and several awards, including two Oscars, two BAFTAs, four Golden Globes, and a Primetime Emmy, to her name. She's also no stranger to controversy. Her activism during the Vietnam War earned her the not-so-friendly moniker "Hanoi Jane." She recently stirred up even more with her appearance on "The View," where she suggested murder is an appropriate action to take against pro-lifers. While she later walked it back, this comment has once again surfaced following a shooting at a Christian school in Tennessee.
During her March 10 appearance on "The View," co-host Joy Behar asked Fonda what women could do in terms of the Roe v. Wade decision and state abortion laws other than "marching and protesting." Fonda replied nonchalantly, "well, I've thought of murder."
Remember when Jane Fonda said liberals should murder pro-life Christians? pic.twitter.com/cabHw2XsBz

— LifeNews.com (@LifeNewsHQ) March 27, 2023
Of course, this raised the hackles of many on both sides of the aisle, and she later said, in a statement to Fox News Digital, that the comment was "obviously made in jest." People weren't buying it and took to social media to let their ire be known. Representative Chip Roy (R-TX), for one, accused the actress of incitement.
Shorter Jane Fonda: "well, so long as SOMEONE gets murdered…" Incitement, much? https://t.co/CAhlZHy4Fw

— Chip Roy (@chiproytx) March 10, 2023
Abby Johnson, a one-time Planned Parenthood director turned pro-life advocate according to her Twitter bio, suggested that Fonda "believes in killing people both in and out of the womb."
That casually thrown-out remark, however, has now come back to bite her as her comments are resurfacing in relation to a Nashville school shooting that took place on Monday, March 27. A 28-year-old former student, Audrey Hale, a transgender male who also went by the name Aiden, broke her way into The Covenant School, where he killed three 9-year-old students, a custodian, the head of the school, and a substitute teacher. There is currently no motive, and the investigation into the shooting is ongoing.
Copyright 2023, NewsSpace.com