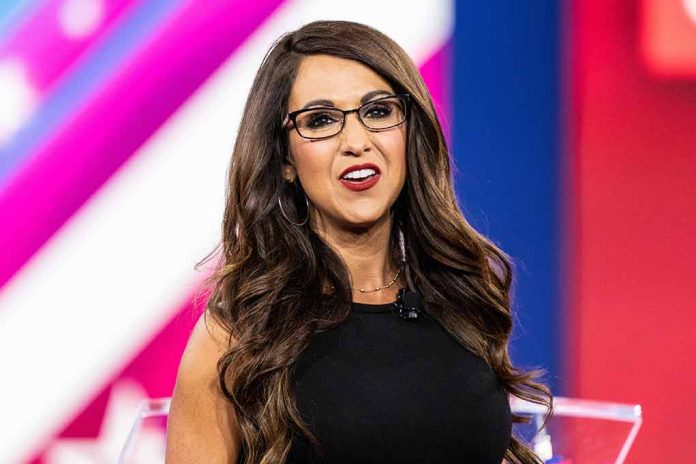 (NewsSpace.com) – Rep. Lauren Boebert (R-CO) has been a controversial figure in Congress. She's also been a very outspoken lawmaker against President Joe Biden and his administration. However, she recently made the news for something completely unrelated to politics.
On Sunday, Boebert and a companion attended a showing of the "Beetlejuice" musical at the Buell Theatre in Denver. When the show's second act began, an usher approached the duo and told them that they had received too many complaints about their behavior and that they had to leave the theater. Boebert reportedly refused, and the usher threatened to call the police. Eventually, the congresswoman and her companion were escorted out of the venue.
According to an incident report shared by the city, the two were reprimanded numerous times for boisterous behavior, including laughing and singing along too loudly, which elicited complaints from people sitting nearby. They were also said to be vaping and recording the performance, which is prohibited. While the report didn't identify those involved, Boebert herself took to X and revealed she was the culprit. She also left a tongue-in-cheek comment for people to go see and tell her how it ends. While being escorted out, The Washington Post reports that Boebert allegedly said, "Do you know who I am?" She also threatened to call the mayor.
It's true, I did thoroughly enjoy the AMAZING Beetlejuice at the Buell Theatre and I plead guilty to laughing and singing too loud! 🤭

Everyone should go see it if you get the chance this week and please let me know how it ends! 😅https://t.co/8JHypcCKsP

— Lauren Boebert (@laurenboebert) September 12, 2023
Boebert's campaign manager, Drew Sexton, denied the two were vaping but admitted that she took a picture, saying she didn't know it was against the rules. He said she encourages people to go see the musical, but to leave their phones behind.
According to Denver Police Sgt. David Abeyta, security at the venue handled the situation, and there was no need for his officers to get involved. They did, however, remain in the lobby until Bobert and her companion had exited the theater.
Copyright 2023, NewsSpace.com