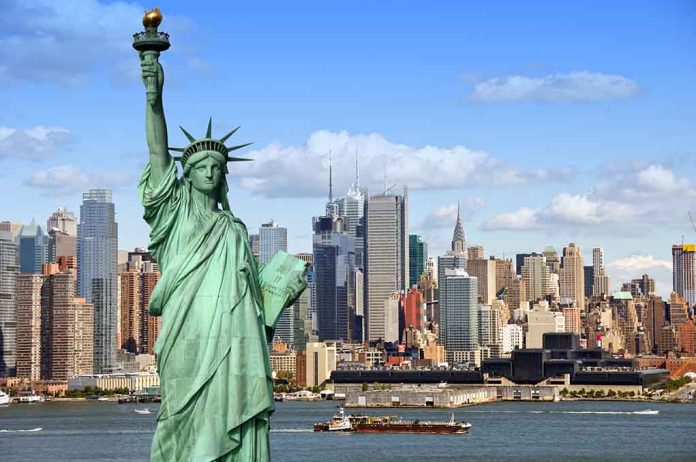 NYC's Migrant Crisis Will Cost MILLIONS
(NewsSpace.com) – The US immigration crisis doesn't just affect states along the southern border. Migrants and refugees get here in many different ways, more often than not settling in urban areas. New York City, currently caring for approximately 17,500 asylum seekers, will spend nearly $600 million a year if current estimates hold. The city's Independent Budget Office (IBO) ran the numbers at the request of political leaders from Staten Island.
A Tough Number to Nail Down
IBO Acting Director George Sweeting says the ever-changing landscape of immigration and asylum makes estimating the actual cost difficult. According to the New York Post, Sweeting wrote how adding another 10,000 refugees to the current demographic mix could add nearly $250 million to the annual price tag. Costs for migrants include shelter, health care, education, and legal aid.
The situation has been exacerbated by border states like Texas sending migrants to the Big Apple and elsewhere in an attempt to lessen the burden on local resources. According to a release from Governor Greg Abbott in September, 11,000 migrants participated in the voluntary program, with 2,500 making their way to New York.
Mayor Eric Adams called the situation "unsustainable" in October, estimating the overall cost of the crisis could reach $1 billion. The problem was significant enough in the mayor's eyes that he declared a state of emergency over it and asked the federal government for funding. The Post revealed Sweeting added a memo to the IBO report stating how federal help is unlikely. Governor Kathy Hochul, however, provided a pathway to state funds after avoiding the sensitive issue during her bid for re-election.
Mismanagement Doesn't Help Matters
Implementation of refugee services has been anything but efficient. A tent city designed to house single male asylum seekers with a $750,000 price tag had to be moved after fears of flooding at its Orchard Beach location. The new spot on Randall's Island was half the size. That site, open for just over a month, closed on November 16 and its occupants moved to the Watson Hotel in Manhattan, a designated Humanitarian Emergency Response and Relief Center (HERRC).
The Daily Mail reports the Watson is a $450 per night, 3.5-star hotel about a block from Central Park. Kathryn Kliff, an attorney with the Legal Aid Society, told the outlet that moving the men to the city is the right thing to do. From there, they have easy access to transportation and services, and with a space to call their own, a chance to move on.
Copyright 2022, NewsSpace.com