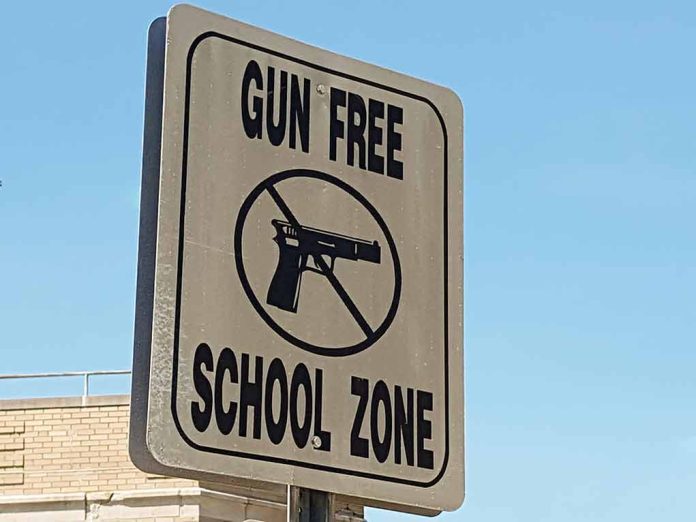 (NewsSpace.com) – Mass shootings have become all too commonplace in the United States; there have been hundreds this year alone. And, it seems no locations are safe from the violence. Sometimes, however, efforts to carry out the attacks are thwarted by someone paying attention. That's what recently happened in Memphis, Tennessee.
On Monday, July 31, just after 12 p.m., several people called 911 to report a gunman outside of Margolin Hebrew Academy. According to reports and security footage, the man allegedly tried to enter the school with a pistol in his hand. When he couldn't gain entry, he opened fire outside the building. The suspect then fled the premises.
Soon after, authorities tracked down the man, who was driving a maroon Dodge Ram pickup truck, per the Memphis Police Department. Police pulled the suspect over not long after the fled the school, and he reportedly emerged from the vehicle with a gun in hand. An officer shot the man, critically injuring him. He was then transferred to Regional One Hospital.
McCrory Avenue and Gary Street pic.twitter.com/mQrCRKn7j0

— Memphis Police Dept (@MEM_PoliceDept) July 31, 2023
Assistant Police Chief Don Crowe said the academy's preparedness is to thank for the lack of injury. He said officials "had a great safety procedure and process in place" that prevented the situation from being worse than it was, according to The Associated Press. At a news conference, a reporter raised the question as to whether it could be considered a hate crime, given the location. Crowe said it was too early to make any such determination.
According to a news release from the Tennessee Bureau of Investigations, it's working to establish exactly what happened that day at the request of District Attorney General Steve Mulroy. The probe is ongoing.
This is the second shooting involving religious schools in Tennessee. In March, Audrey Hale opened fire at The Covenant School in Nashville, killing six people, including three 9-year-olds.
Copyright 2023, NewsSpace.com