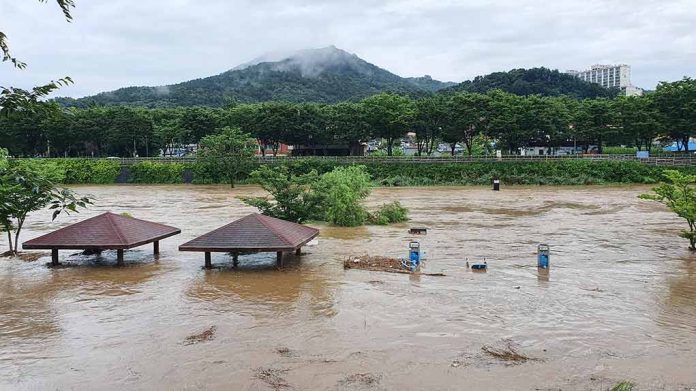 (NewsSpace.com) – Torrential downpours can wreak havoc on a landscape, especially when copious amounts of rain fall in a short time. This can lead to flooding, which can lead to perilous conditions. Sadly, at least 40 people lost their lives in South Korea when a river burst its banks.
Since Thursday, July 13, at least 23 inches of rain has fallen in South Korea, creating catastrophic conditions such as landslides, flooding, and road collapses. Many homes and buildings have been damaged in the aftermath. Additionally, the Miho River burst its banks, trapping vehicles inside an underpass in Osong. According to reports, cars and a bus flooded, killing 13 people. Authorities rescued nine others on the scene. Many more are still missing, according to the Ministry of Interior and Safety. Rescue services are continuing to work to recover bodies.
South Korean President Yoon Suk Yeol said that these types of catastrophic weather incidents are becoming the "new normal" and that the country "need[s] to completely dismantle thinking that these extremes are an aberration."
He also had quite a bit to say about local governments being ill-prepared for the rains and the aftermath, lamenting their not blocking off water entry into lower-laying areas, particularly where the capital's most vulnerable live. Last year, 11 people died in these regions.
Yoon has also ordered Han Duck-soo, the country's prime minister, to mobilize the resources available in order to help rescue people and minimize additional casualties. The country is expected to get more rain this week, including up to 3.1 inches per hour on Wednesday in Jeju Island, according to the Korea Meteorological Administration.
South Korea is just one country experiencing deadly flooding. In the United States, five people died in Pennsylvania over the weekend. India saw 100 deaths, and Japan reported at least three deaths due to weather conditions.
Copyright 2023, NewsSpace.com