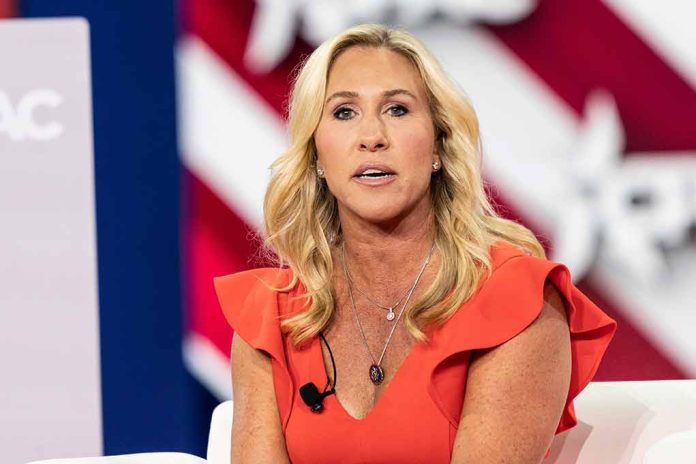 (NewsSpace.com) – Former President Donald Trump was the first GOP candidate to announce that he was seeking the party's nomination for the 2024 election. To date, he has continuously maintained the lead in polls, despite his ongoing legal woes. There's been much speculation about who he might choose as his running mate, and one lawmaker says her name is on a list.
Speaking to The Guardian, Georgia Rep. Marjorie Taylor Greene (R) said she knows her "name is on a list" to be Trump's possible second-in-command. While she said she's "honored" to be considered, her "biggest focus right now is serving the district that elected [her]."
Greene, who never finds herself far from controversy, is an avid Trump supporter who has been in his corner since day one. She's repeatedly stood by his claims that he won the election and has spread conspiracy theories during her time in office.
The Georgia representative recently attended the first Republican debate in Wisconsin, where she was joined by other MAGA GOP members, including Rep. Matt Gaetz (R-FL), despite Trump not being in attendance. Greene says she told the former president to skip the event because he wasn't needed there; he's already dominating the polls. Even if he doesn't choose her to be his running mate, she said, she'll "help him do whatever in any way [she] can."
Greene also says she hasn't read the most recent indictment to come out of her home state, because it's "garbage" and not even worth "five seconds of [her] time."
The first Republican debate gave the other contenders a chance to show the American public what their views are on various issues. While former New Jersey Governor Chris Christie and entrepreneur Vivek Ramaswamy engaged in bickering, Florida Governor Ron DeSantis, who polls show as the only real possible contender for Trump, was said to be pretty unmemorable.
The next GOP primary debate is September 27. It's unclear if Trump will attend that one.
Copyright 2023, NewsSpace.com