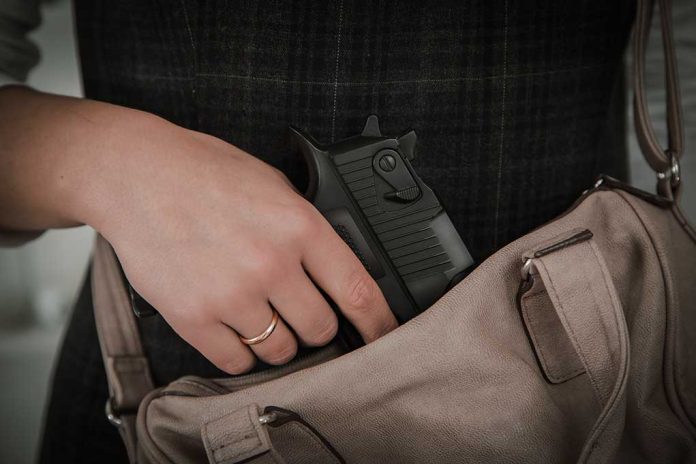 (NewsSpace.com) – In recent years, more than two dozen states have passed permitless carry laws. These laws allow people to carry weapons in a concealed manner without a concealed weapons permit. Some states even allow law-abiding citizens to openly carry their weapons. New Mexico is not one of those states.
The Southwestern state requires gun owners to go through a permitting process. However, the Democratic governor just made a unilateral decision to strip residents of the right to carry their weapons at all.
The Ban
On Friday, September 7, New Mexico Governor Michelle Lujan Grisham (D) issued an executive order declaring gun violence a public health emergency. In doing so, she banned firearm carry for 30 days in Albuquerque and the surrounding counties, effective immediately. She cited ongoing violence, particularly that which has resulted in the deaths of innocent children, including an 11-year-old who was shot outside a baseball stadium a few days prior.
The order bans both open and concealed carry in public places, including parks and city sidewalks. People caught with their guns will be subject to civil penalties, which could include a fine of up to $5,000. Law enforcement, along with licensed security guards, are exempt from the order.
Naturally, the ban was met with a lot of backlash from those accusing Grisham of violating the US Constitution. Albuquerque's police chief and mayor have expressed outrage, as has the county's top prosecutor, all of whom said they would not be enforcing the ban.
Democrats Question Move, Too
It's not just Conservatives who are up in arms about the move, Democrats are getting in on the action, too. For example, John Allen, the Bernalillo County sheriff, said he would not be enforcing the ban. He says it's not the right move, it "will not do anything to curb gun violence," and will only "punish law-abiding citizens." Additionally, he says he doesn't want the violence that's ravaging the county to include "political violence" towards his deputies. To counter this potential backlash, Grisham said state authorities will carry out the enforcement, rather than local branches.
Even gun control activists are in disagreement with Grisham's move, saying that "there's no such thing as a state public health emergency exception to the U.S. Constitution." The governor, however, insists that she's well within her rights and is expecting legal pushback.
The ban is slated to last through October 6, per the executive order. However, Grisham has said she'll revisit the situation at that time and could extend it past that date if she deems it necessary.
Copyright 2023, NewsSpace.com