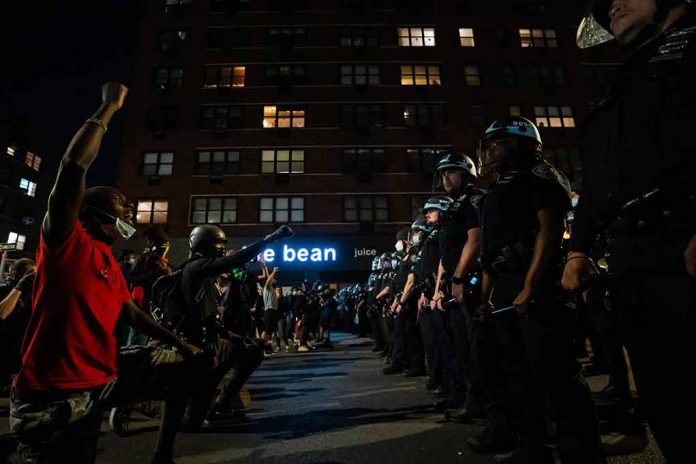 (NewsSpace.com) – In the aftermath of the death of George Floyd at the hands of Minneapolis, Minnesota police, riots broke out across the country. They were especially prominent in large Democratic cities, like New York, Seattle, and Los Angeles. Police forces were quick to respond to the outbreaks with mass arrests and, sometimes, violence. Some protestors sued, and in one city, will now receive a payout.
In The Big Apple, more than a thousand people joined a class-action lawsuit alleging police used unlawful tactics, violating their rights. Some claimed they were arrested without cause; others say they were subjected to violence — from police batons and pepper spray. The city has now decided to settle the case for more than $13 million. That means those who qualify will receive a payment of $9,950. It applies to those who suffered at the hands of police in 18 specific locations throughout Brooklyn and Manhattan.
The claimants in the lawsuit said their First Amendment rights were violated during the mass events, where police tried to quash their right to protest. One woman, Sabrina Zurkuhlen, says while filming the events with her phone, a police officer knocked it out of her hands and beat her with a baton. She was arrested and held in police custody for more than eight hours. Her summons for violating the citywide curfew was later tossed.
However, not everyone who will try to collect the payout will receive the money. Those charged with specific crimes involving violence, including property destruction, trespassing, assaulting an officer, weapons possession, and arson. In some cases, those who helped obstruct police and prevented them from arresting protestors may also fail to qualify.
This isn't the only lawsuit that New York City has settled this year. In March, it agreed to pay hundreds of protestors who claim they were boxed in by police, a practice known as "kettling," $21,500 each.
Copyright 2023, NewsSpace.com