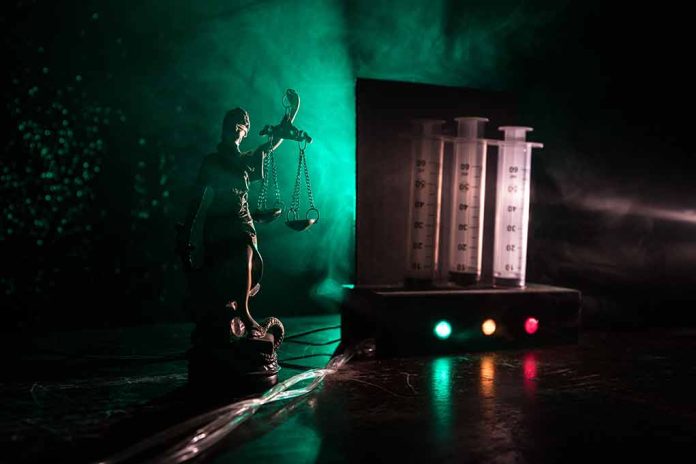 (NewsSpace.com) – In December 1996, Juli Busken, a 21-year-old dance student at University of Oklahoma, was abducted from her apartment complex, raped, and murdered. Her body was found the same evening she disappeared but the case remained unsolved for years. In 2006, Anthony Sanchez was convicted of killing Busken and sentenced to death. The state of Oklahoma recently carried out his sentence.
On Thursday, September 21, Sanchez died by lethal injection. Attorney General Gentner Drummond made a brief statement following his death that "nearly 27 years after her life was tragically taken," Busken's family received justice. They did not attend the execution.
As he laid strapped to the gurney, Sanchez maintained his claim that he was innocent, that he "didn't kill nobody." He previously blamed his father for the crime, a move that AG Drummond said was "ludicrous" because the DNA pointed to Anthony, not his father, Glen.
Authorities honed in on Sanchez in 2004, when a woman alleged that he tied her up after breaking into her home. From there, they were able to get a DNA sample and compare it to the one on Busken at the time of her death. It was a match. They subsequently ruled out his father's DNA as a potential match. Further, former District Attorney Tim Kuykendall said there was other evidence linking Anthony Sanchez to the crime as well.
Sanchez tried to get a stay of execution while his new attorneys reviewed the evidence but the Supreme Court denied his request. He also refused to apply for clemency stating that Oklahoma Governor Kevin Stitt (R) was likely to deny it.
The state had a moratorium on executions for six years, after a botched attempt in 2014. Officials resumed the practice in 2021. Since then, 10 people, including Sanchez, have died from capital punishment. The next one is scheduled to take place on November 30.
Copyright 2023, NewsSpace.com