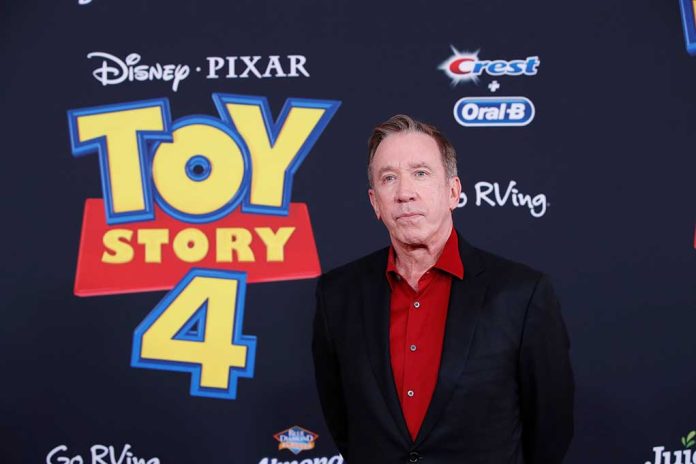 (NewsSpace.com) – "Home Improvement" was a hit sitcom in the 1990s. Millions of people around the country tuned in weekly to see what kind of shenanigans Tim "The Tool Man" Taylor would wind up in during each episode. During the first two seasons of the show, Pamela Anderson appeared alongside leading star Tim Allen as his tool girl, Lisa. In her upcoming memoir, Anderson reveals she experienced a very uncomfortable moment that happened behind the scenes.
On January 31, publisher HarperCollins will release "Love, Pamela," a memoir where Anderson talks about her life from childhood up to and beyond achieving fame. In the book, she mentions her stint on "Home Improvement." In 1991, she appeared on the show when she was just 23 years old, one of her earliest acting jobs.
During her first day of filming, she says she was coming out of her dressing room when Allen allegedly opened his robe, flashing her and revealing he was completely naked underneath. According to Variety, which received an advanced copy of the book, Anderson said the actor told her "it was only fair," and they were now even, seemingly a reference to her posing for Playboy Magazine.
In her upcoming memoir, Pamela Anderson details an incident that took place on the set of "Home Improvement" in 1991 when she was 23 years old: "I walked out of my dressing room, and Tim was in the hallway in his robe. He opened his robe and flashed me." https://t.co/ebNTtn0g9R pic.twitter.com/5cYZffgOif

— Variety (@Variety) January 22, 2023
Variety reached out to Allen, who denied the claim, saying he "would never do such a thing." Anderson has notably received backlash for her comments, but she's also received support, with many acknowledging that back then, she wouldn't have been able to speak out about the incident without it damaging her career. That alleged memory is only one of the bombshell claims she makes in the book.
The people saying why didn't she say anything at that time? It was 1991 and she was a new actress who was only known for posing for Playboy… they would have blacklisted her so fast and ripped her apart in the press. So glad she is able to tell all now.

— Stephen🌹🚀 (@luckySGM) January 23, 2023
After Anderson's stint on "Home Improvement," she went on to star in "Baywatch" from 1992 to 1997 as lifeguard Casey Jean "CJ" Parker. She's had many other roles, as well, starring in a number of movies, television shows, and music videos.
Copyright 2023, NewsSpace.com