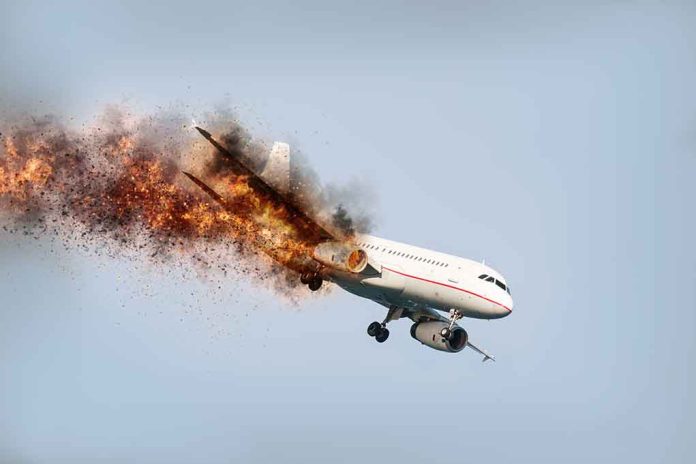 (NewsSpace.com) – Plane crashes aren't all that common anymore, but unfortunately, they do still happen. And in today's technological era where smartphones capture everything, its inevitable tragedies get caught on camera. When a Yeti Airlines plane crashed, it seems a passenger recorded their final moments.
On Sunday, January 15, Yeti Airlines Flight 691 went down with seemingly no warning. An unauthenticated video recovered from a passenger's phone shows a group of people enjoying the flight when everything seems to go wrong. Sonu Jaiswal was recording when a jolt shook the plane, and shortly after, smoke and flames erupted. Passengers could be heard screaming in the background.
Authorities are not clear how the video ended up on social media following the accident. There was speculation that Jaiswal was live streaming, but this information hasn't been verified, nor is it clear if the video has been modified at all.
The plane was approaching Pokhara airport, which does not have a functioning instrument landing system to guide aircraft to the runway when it suddenly went down. Other videos from that day show the plane on fire while in the sky moments before the crash. The day after the crash, Yeti Airlines recovered the black boxes, which contained flight data and voice recordings from the cockpit, from the site of the tragedy. This is expected to help officials investigate the cause of the crash.
All 72 passengers onboard are believed to have perished in the crash. ABC 7 reported that this count includes two Americans and two lawful permanent residents of the US, according to Ned Price, a State Department spokesperson.
Two U.S. citizens and two permanent U.S. residents were among those killed in the plane crash in Nepal earlier this week, according to the State Department. https://t.co/bWQdHgqZ4A

— ABC News (@ABC) January 19, 2023
Nepali authorities planned to send bodies of foreigners to Kathmandu for identification and inspection, and the State Department has offered to assist. Authorities in India have begun notifying the passengers' families.
This is the deadliest accident to happen in the region in three decades.
Copyright 2023, NewsSpace.com