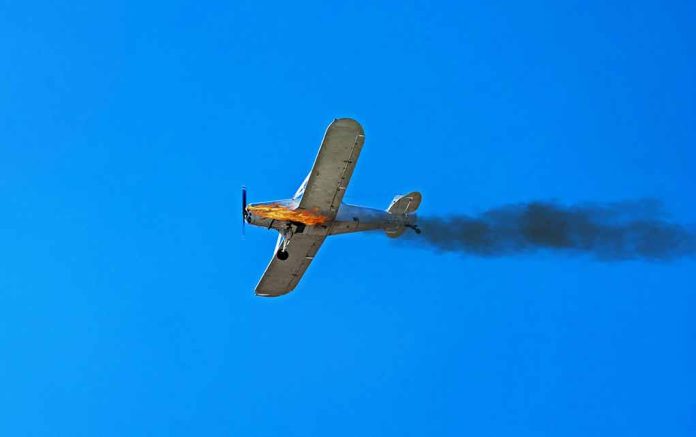 (NewsSpace.com) – Plane crashes are not common, everyday occurrences. However, they do happen from time to time, typically involving smaller aircraft. A recent test flight in Lagos, Nigeria, turned into what could have been a nightmare for all on board.
On Tuesday, August 1, a pilot with Air First Hospitality and Tours was conducting a test flight with another passenger on board. The pilot soon radioed in, saying they needed to make an emergency landing. A video that went viral shows the aircraft, a Jabiru J430 single-engine plane, in a nosedive heading toward a busy street in the Oba Akran area. It clips a light post, which sends it spinning before it crashes into the roadway and burst into flames.
Report: Plane Crash on Oba Akran Avenue, Ikeja

The Lagos State Emergency Management Agency have confirmed that a light aircraft – Jabiru J435 on a test flight with 4 persons including the pilot onboard crash landed on the road in front of the United Bank for Africa branch at… pic.twitter.com/EzBntdaH9U

— ARISE NEWS (@ARISEtv) August 1, 2023
From the video, the scene looks horrendous, but both people in the plane survived. In fact, the pilot can be seen escaping from the aircraft, hobbling from their injuries. Both of those on board were taken to the hospital, where they received treatment.
In the aftermath, people were seen running, fearing that the flames would spread to the nearby gas station and cause an explosion. Firefighters worked to contain the blaze, but rains in the area helped prevent it from spreading. Traffic was at a standstill while first responders put out the fire. The crash left noticeable craters in the street where the plane landed.
The Nigerian Safety Inspection Bureau has opened a probe into the accident. It's asking that anyone who has videos or images of the crash please send them to the agency to aid in the investigation.
Small plane crashes like this happen occasionally in the United States, too. On Friday, August 4, a small aircraft crashed at Pembroke Pines' North Perry Airport, killing one and injuring two others. On Thursday, one went down in central Alabama with just the pilot onboard. Nobody was injured.
Copyright 2023, NewsSpace.com