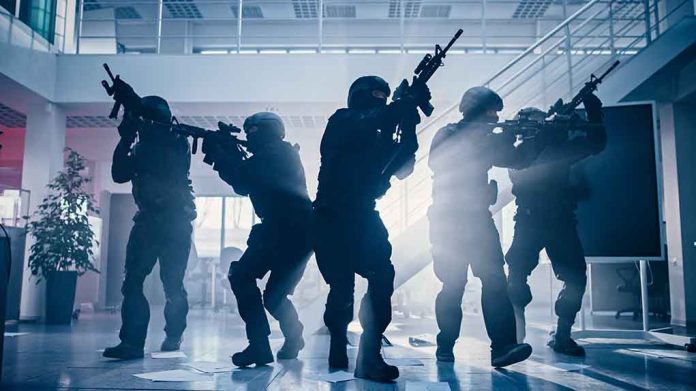 (NewsSpace.com) – On October 12, 2021, pro-life activist Mark Houck was protesting outside a Philadelphia Planned Parenthood, when he got into an altercation with 72-year-old Bruce Love, who volunteered at the facility. Love alleged that Houck shoved him, but Houck insisted it was after the older man verbally accosted his 12-year-old son. Fast forward to September 2022, and a grand jury indicted the activist on charges of violating the Freedom of Access to Clinic Entrances Act (FACE). The FBI then raided his home in a story that made national headlines. Several monts later, the activist has been vindicated.
On September 23, 2022, the FBI showed up at Houck's home where he lived with his wife and seven children, who were all home at the time and terrified by the incident. Ryan-Marie Houck, Mark's spouse, spoke with Tucker Carlson later about the arrest and aftermath in detail, saying her children were traumatized.
In the wake of the raid, 22 members of Congress wrote a letter to Attorney General Merrick Garland demanding answers and transparency surrounding the activist's arrest. The correspondence, spearheaded by Senator Tom Cotton (R-AR), noted that the whole ordeal "appear[ed] to be an extraordinary overreach for political ends," according to a copy produced by Fox News. It continued asking for an explanation for the "excessive level of force used by the FBI," and urged a response within a timely manner.
Houck subsequently pleaded not guilty to the charges against him where he faced up to 11 years in prison and a fine of up to $350,000. On Monday, January 30, he was acquitted.
Following the jury's decision, many spoke out about justice being served, noting that Houck never should've been charged. Senator Cotton is one who applauded the outcome.
Mark Houck never should have been prosecuted, let alone treated like a terrorist in an early-morning FBI raid with a SWAT team.

Merrick Garland should be ashamed for using DOJ as a political weapon to target pro-life activists.

— Tom Cotton (@TomCottonAR) January 30, 2023
Matt Britton, a general counsel for 40 Days for Life, spoke to The Daily Caller and in a statement said "The system worked, and justice prevailed."
Copyright 2023, NewsSpace.com