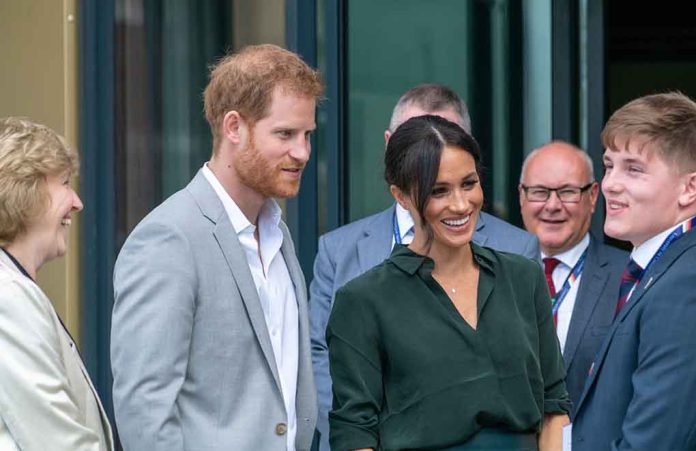 (NewsSpace.com) – In January 2020, Prince Harry and Meghan, the Duke and Duchess of Sussex, announced they were stepping down from their roles as working royals. Their new journey officially began months later, in March 2020. That month, the couple attended the Commonwealth Day service at Westminster Abbey in London with other members of the royal family. During the event, Sophie, Duchess of Edinburgh, seemed to shoot Meghan an intimidating look that made the Duchess of Sussex quickly look away. The moment was caught on video.
On April 1, footage of the incident resurfaced on TikTok and went viral. As of April 5, the video of the seemingly tense exchange garnered over 4.3 million views and roughly 150,000 likes. The caption read: "The look that scared the hell out of Meghan Markle." Of course, the whole bit about Sophie's feelings toward Harry and Meghan and the tension in the glance is speculation, considering most of the royal family has been very hush-hush about the couple's departure from the lifestyle Harry had been living since birth.
However, many think the body language is clear.
Royal's Awkward Body Language Around Meghan Markle Resurfaceshttps://t.co/poXpzzcQMN

— NoFakeNews (@TruthOnlyNews) April 4, 2023
In February 2021, Buckingham Palace put out a statement regarding the Duke and Duchess of Sussex. It confirmed the couple would not return as working members of the royal family, relaying everyone's sadness about the news. However, the message stated the pair were still "loved members of the family."
A month later, Harry and Meghan sat down for an explosive interview with Oprah Winfrey, where the duchess made some rather shocking claims about the royals — including how she experienced racism. Harry's brother, Prince William, publicly denied the claim.
In January, Prince Harry released a memoir entitled "Spare," where he also made some scandalous allegations, including how he didn't want his father to marry now-Queen Consort Camilla and his accusation that his family gave the press personal information about him.
Copyright 2023, NewsSpace.com