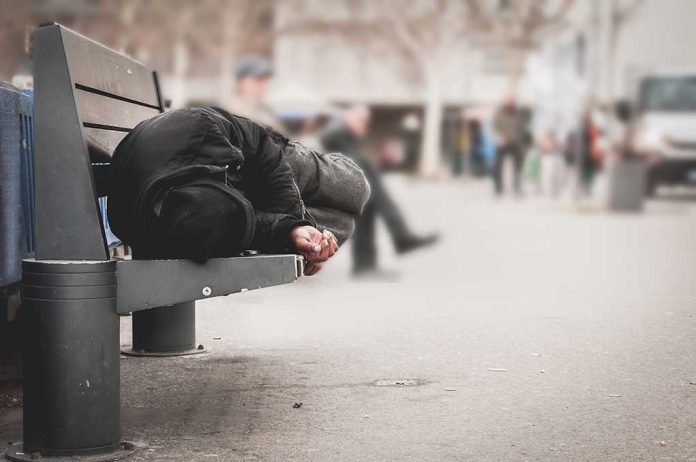 (NewsSpace.com) – California has a real serious homeless problem. There are tent encampments all over major cities in the state and people living on the sidewalks. Over 300,000 people used the state's homelessness response system last year. Officials have been trying for years, spending billions, to clean them up, with little success. Now one district attorney has decided to sue his city for lack of action.
District Attorney Sues
On Tuesday morning, September 19, Sacramento County District Attorney Thien Ho announced that he filed a civil lawsuit against Sacramento. In a press conference afterward, he said "The community is at a breaking point," and the city has "allowed, created, and enabled a public safety crisis regarding our unhoused," according to KCRA.
Ho is referring to the large number of the homeless population that tends to set up camp on the city's sidewalks. Many tend to bring drug paraphernalia and leave it on the streets where members of the community stumble upon it. The Wall Street Journal reported that over the last few years, the city has experienced a significant amount of growth, 67%, in its homeless population. The only city with a more severe problem is San Francisco. Ho says the city needs to do more, including extending "the same protection" City Hall gives itself to the rest of the city. Local lawmakers allows homeless people to sleep on the property at night, but not during the day during business hours of operation. He's also calling for additional camping places that are professionally operated.
The Response
Sacramento Mayor Darrell Steinberg (D) is all for addressing the issue, but expressed his frustration with Ho, whom he met with over the summer to discuss the situation. After Ho's announcement on Tuesday, Steinberg released a statement calling lawsuit a "performative distraction," saying, "the city needs real partnership […] not politics and lawsuits." He concluded his statement with a call to action: "Let's just do the work."
The Sacramento Homeless Union plans to file a motion and complaint for intervention, accusing the DA of targeting and persecuting the homeless. The organization says it will continue supporting the vulnerable population.
Elsewhere in California, Governor Gavin Newsom, a staunch Progressive, has threatened to interfere in a court case centered on cleaning up San Francisco's homeless population. The officials there are being stymied by lawsuits that prevent them from carrying out cleanup efforts, despite having spent billions on efforts already. Newsom was adamant about hoping the case would make it all the way to the Supreme Court, a notion that he acknowledges is unusual for a Democrat.
Copyright 2023, NewsSpace.com