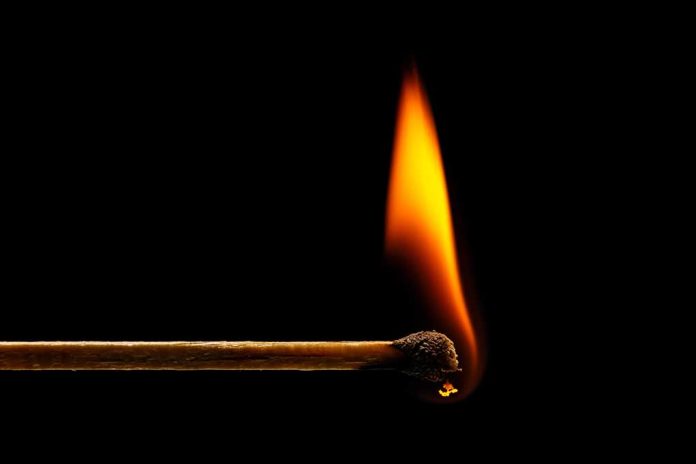 (NewsSpace.com) – On the evening of May 21, a fire engulfed a school dormitory in Guyana, killing at least 20 people, most of them children. Authorities determined early on that the blaze had been "maliciously set." Now a 15-year-old girl is facing several charges related to the arson.
On Monday, May 29, a week after the fire ravaged the girls' dormitory at Mahdia Secondary School, a boarding school, the unidentified teen was charged as an adult with 19 counts of murder. The Guyana Chronicle reported that she appeared via Zoom meetings the same day before the Diamond Magistrates' Court, where Magistrate Sunil Scare remanded her to the Juvenile Holding Center.
At the time of the fire, which started in the bathroom and quickly spread, there were 57 students inside. The dormitory is a single-floor concrete building that has barred windows and doors that were locked from the inside with keys to prevent students from sneaking out, which made it difficult for the girls to escape the flames. A five-year-old boy, the dorm administrator's son, also died. According to authorities, the girl set the fire when a teacher and dorm mother took her phone away to prevent her from contacting older men.
In addition to the 20 deceased, another 9 were injured in the fire. Post-mortem examinations carried out on those who perished showed they died from burns and smoke inhalation.
In the aftermath of the blaze and the tragic deaths, complaints were filed about the school, and speculation ran rampant on social media. In a Facebook post, Education Minister Priya Manickchand asked everyone to stop spreading rumors and wait until all the facts are in. She also asked that people "hold off on mouthing off on [their] opinions."
The last major fire in the South American country occurred in 2016 when 17 inmates died at a Georgetown prison.
Copyright 2023, NewsSpace.com