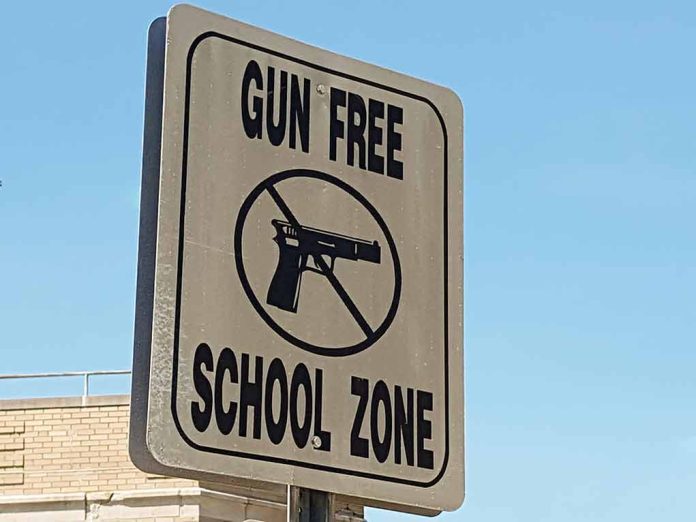 (NewsSpace.com) — Citizens in Greensburg, Louisiana, are reeling from shock this week in the wake of a school shooting at St. Helena College and Career Academy on September 12. According to a statement from the local sheriff's department, a 14-year-old boy opened fire on his peers in the parking lot at around 3 p.m., killing one student and injuring two others.
Police arrested the teen perpetrator, who remains unnamed due to the fact that he is a minor, shortly after the incident occurred. Meanwhile, first responders transported both of the injured victims to a local hospital for treatment. One individual was so seriously injured, they had to be airlifted away from the scene.
St. Helena College and Career Academy immediately took action by canceling school and extra-curricular events until Friday, September 15. A statement published on their Facebook page suggests that they also intend to bring in grief counselors to help students and staff cope with the loss after school resumes.
It wasn't immediately clear what drove the student to bring a gun to school and open fire on his peers. However, Chief Deputy Joe Cheney told WFAB News that bullying played a role in the tragic event.
Although police have not officially released the names of the victims due to their age, local reports identify 16-year-old 11th grader Vernon Gordon Jr. as the deceased. Gordon had deep connections to St. Helena College and Career Academy. He not only played football for the school but was also the nephew of the current principal, Christopher Gordon.
The teen suspect, who faces a slew of charges in relation to the incident, allegedly remains in police custody at St. Helena's Detention Center as of September 14. He faces a barrage of charges in relation to the incident, including second-degree murder, illegal possession of a firearm, possession of a firearm in a gun-free zone, and aggravated second-degree battery.
Tragically, the Greensburg incident is only the most recent in a string of incidents to take place since classes resumed for the year throughout the United States. Fifteen-year-old Ja'Kobe Queen died during a shooting at a Port Allen High football game in Baton Rouge on September 1. A graduate student, Tailei Qi, also opened fire on faculty adviser Zijie Yan at the University of North Carolina on August 28.
Copyright 2023, NewsSpace.com