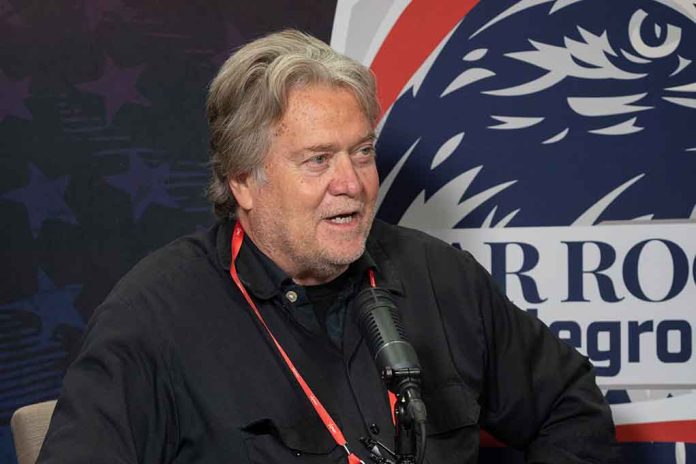 (NewsSpace.com) – Swatting is a dangerous crime carried out when someone calls and reports an incident that results in a large police response to an unsuspecting person's house or place of business. The consequences to both the victim and the perpetrator can be significant. A former Donald Trump Administration official has become the most recent target.
On Thursday, May 11, Steve Bannon, a former White House chief strategist, was filming his podcast, "War Room," when he abruptly took a break in the middle. He came back and apologized for the interruption, saying he "got swatted in the middle of the show." This was confirmed by the Metropolitan Police Department, according to the New York Post. Apparently, someone called to report a shooting at his house.
BREAKING: Steve Bannon Swatted While Reporting On Biden Family Corruption pic.twitter.com/lJFUZLuHhf

— Steve Bannon (News) (@BannonSteveNews) May 11, 2023
Bannon educated his audience on what swatting is and made the statement that the perpetrators are "trying to have suicide by police." He elaborated and said, "they're trying to make sure that something happens here, that one of the police officers gets concerned […] and actually starts firing." According to Bannon, the reason for the swatting is to silence his voice.
This isn't the first time the former official was a victim of the harassment tactic. A heavily-armed police force surrounded his house last July after receiving a call that there was a gunman inside the home who had shot someone. During both incidents, Bannon credited the police for their thoroughness.
Other politicians have also fallen victim to swatting. Rep. Marjorie Taylor Greene (R-GA) had it happen to her twice. In the early morning hours of Wednesday, August 24, 2022, police surrounded her home in Floyd County, Georgia. Someone called law enforcement and reported having been shot numerous times. It happened again the next day, and police responded to her house after receiving reports of multiple people shot and a suicide threat. There were no arrests made in either case.
Copyright 2023, NewsSpace.com