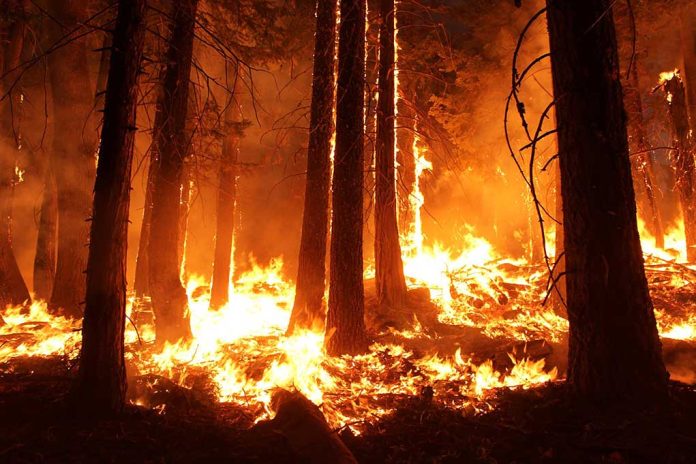 (NewsSpace.com) – Wildfires have been burning in Canada for months now, and the winds have been carrying the smoke into the United States, severely affecting the air quality. Earlier in the summer, it affected much of the Northeast, which experienced a hazy atmosphere and overcast skies. Now, the wildfires have caused weather experts to issue air quality alerts for some Central and Western states.
There are currently more than 1,000 wildfires raging in Canada, affecting more than 41 million acres. Approximately 650 of those fires are said to be out of control. The winds have carried smoke from the fires to the Lower Mississippi Valley, and the Northern and Central Plains areas of the United States, including Wyoming, Colorado, Nebraska, and Minnesota. Some areas in North and South Dakota will have unhealthy air quality, which means staying inside is critical for individuals with health issues.
To make matters worse, Reuters reported that Canadian Natural Resources Minister Jonathan Wilkinson said warm, dry conditions in the country could keep providing fuel for the fires, even through the winter months. Wilkinson blames climate change as the reason for the increased intensity and frequency of the wildfires, which have affected nearly all of Canada's 13 provinces and territories.
When someone inhales smoke from wildfires, it can cause several health issues. According to the Environmental Protection Agency (EPA), particle pollution can trigger breathing issues, but that's not all. It can increase a person's risk of developing heart and lung conditions, and be the catalyst for heart attacks.
Millions of people end up in hospitals each year due to illnesses brought on by low air quality. When air quality is especially low, health experts recommend that people not stay outside for extended periods of time and avoid physical exertion. Those who have to go outside should take preventative measures, such as wearing a mask.
Copyright 2023, NewsSpace.com