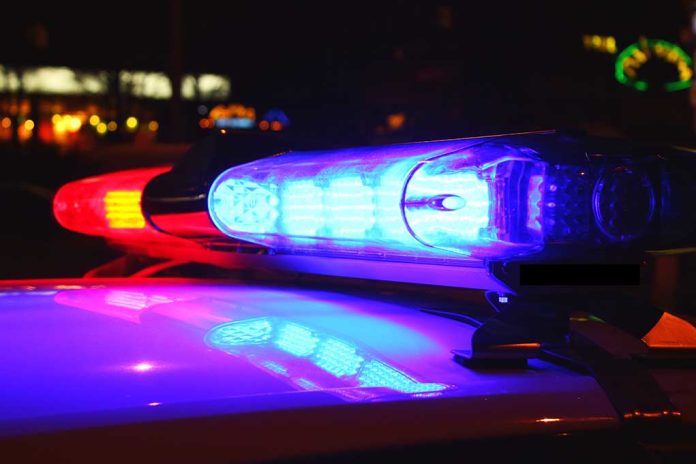 (NewsSpace.com) – When police officers are called to a home for a domestic violence incident, they're basically walking into the unknown, and they have to be prepared for anything. Sometimes, they make mistakes, and they can be costly. That's exactly what happened in Farmington, New Mexico, on April 5.
Around 11:30 p.m. that night, police were called out to answer a domestic violence call. However, instead of approaching the correct house, which was number 5305, they walked by it and ended up at the door of house number 5308. When they knocked, nobody answered, so they knocked again and announced their presence. During this time, officers at the scene spoke with dispatch to tell the caller to come to the door and to confirm the residence number again. Dispatch repeated 5305.
Bodycam footage of the event shows that when the resident, 52-year-old Robert Dotson, finally did answer the door, he did so with a handgun. Officers immediately backed away and opened fire, shooting the man directly and firing in the vicinity of his wife. Dotson is seen in the video collapsing to the ground.
Farmington Police Department Releases Records Related to April 5 Officer-Involved Shooting on Valley View Avenue https://t.co/4PIeGqy8i9

— Farmington Police NM (@FPDNM) April 15, 2023
The wife shot back from inside the house, not knowing it was the police at the door. More officers arrived on the scene shortly after. Dotson's wife could be heard screaming hysterically in the video, and his teenage daughter called 911, crying to the dispatcher for help and relaying that her dad needed assistance.
In the aftermath, the three unnamed officers who answered the call that day were placed on administrative leave — with pay — while the investigation is underway. The Farmington Police Department issued a public apology to the family, according to the Associated Press. Police Chief Steve Hebbe said the department "wish[ed] to express [its] condolences to the Dotson family." Hebbe also issued a personal apology and promised to be transparent about updates.
Copyright 2023, NewsSpace.com