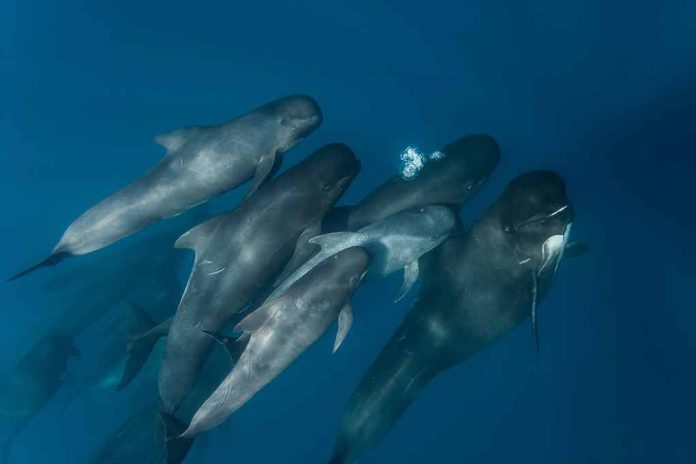 (NewsSpace.com) – Whales are some of the ocean's most majestic creatures. They're very important to the marine environment, but sometimes they end up stranded on the beach for unknown reasons. In Western Australia, a pod of nearly 100 pilot whales stranded themselves, and rescuers frantically worked to get them back to sea. Sadly, their efforts failed, and experts euthanized those that didn't die.
It all started on Tuesday, July 25, when people noticed a pod of pilot whales swimming close to the shore of Cheynes Beach, forming a heart shape in the water. By mid-afternoon, dozens had washed up, beaching themselves. As of the next day, 52 of the majestic creatures had perished, and rescuers were hard at work trying desperately to save the other 45. While they were able to get them back into the water, they only washed up again a little further down the shore.
After consulting with veterinarians and Department of Biodiversity, Conservation and Attractions (DBCA) officers, the Parks and Wildlife Service of Western Australia made the heartbreaking decision to euthanize the rest of the whales to end their suffering. In a Facebook post, they thanked the rescuers who tried so hard to help save them. All in all, more than 350 people joined the efforts.
Reece Whitby, the environment minister, expressed frustration with not knowing the reason the pod washed up in the first place, saying the deaths were a "terrible, terrible tragedy," according to ABC News.
Peter Hartley, a DBCA manager, said they plan to have samples analyzed to determine if illness was a factor, and it would likely lead to a lot of genetic discovery about the pod, including whether they were related.
The incident wasn't the first time a pod of pilot whales washed ashore and eventually died. In September 2022, 200 of them washed ashore in Tasmania — all perished. Then in October, close to 500 died on New Zealand beaches. It's a weird phenomenon that likely warrants a closer look.
Copyright 2023, NewsSpace.com