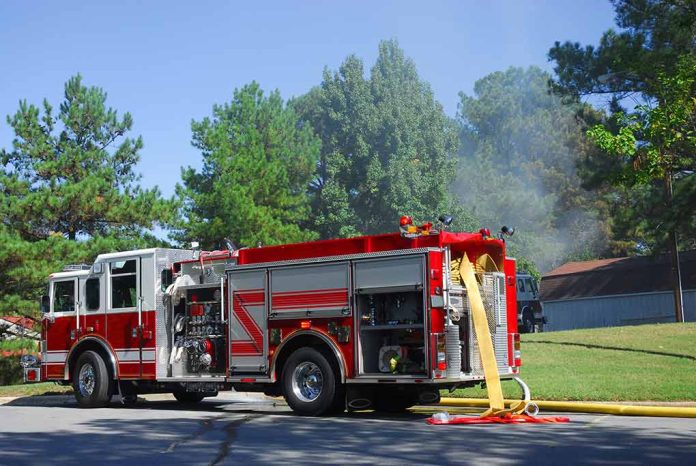 (NewsSpace.com) – Most people know that impersonating a law enforcement official is a crime, but so is pretending to be a firefighter. In most states, it's a misdemeanor offense, punishable by jail time or a fine. One woman in Florida didn't get the memo, however, and decided that rather than go through the appropriate steps to become a firefighter, she'd go on a crime spree.
In a July 17 post on Facebook, the Suwannee County Sheriff's Office detailed the events that went down just two days prior. Authorities received a report of a stolen vehicle — a fire truck to be exact — from the Wellborn Volunteer Fire Department. When they arrived on scene, they spoke with the fire chief who said he had permitted 44-year-old Belinda Delores Waugh to stay at the station overnight but later found her and the truck missing.
In a twist of fate, while the Sheriff's office was collecting information, Waugh called in because the fire truck she stole had run out of gas approximately 10 miles from the station, and she was stuck. Authorities went to pick up Waugh, who then told the officers she was a volunteer firefighter with Wellborn, a claim the department denied.
Authorities then arrested Waugh and charged her with fraudulently impersonating a firefighter and grand theft of a motor vehicle. She was booked into the Suwannee County Jail, where she remains held with no bond at the time of writing.
Waugh isn't the only one who recently stole a fire truck in Florida. On Thursday, May 18, Miami-Dade Fire Rescue firefighters were carrying out a training exercise when 31-year-old Lekambrick Aljenard Lavaris Hanna decided he was going to take one for himself. He led deputies on a chase, during which time he crashed into an empty Opa-Locka Police Department vehicle, before heading onto I-95. Two agencies coordinated efforts and successfully stopped him without any further accidents. Hanna was apprehended and booked into jail on charges of grand theft.
Copyright 2023, NewsSpace.com