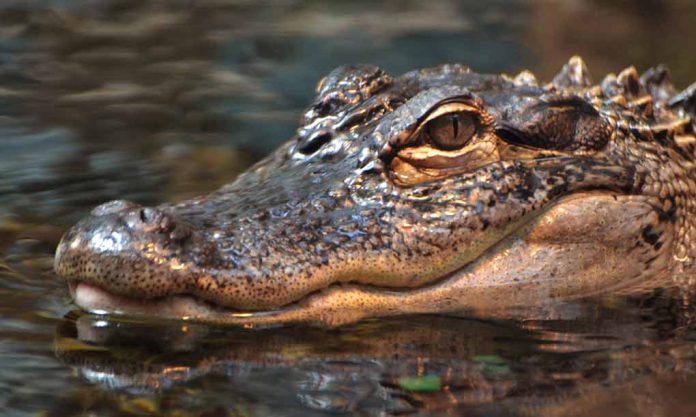 (NewsSpace.com) – The Florida Fish and Wildlife Conservation Commission (FWC) has its hands full of monitoring and protecting the state's estimated 1.3 million alligators. FWC officers usually don't have anything to do with gators kept in captivity by private parties. However, there's an exception to every rule, as one worker recently learned.
According to reports, there was recently an incident involving an apparent alligator abduction. On September 4, the Orange County, Florida, Sheriff's Office (OCSO) submitted a request to the FWC seeking assistance dealing with a young gator a woman was keeping in her hotel room's restroom.
The woman, later identified as Madison Stephan, reportedly "borrowed" the alligator from her old job in nearby Tampa at Croc Encounters. The OCSO's incident report said she told deputies she drove the gator to her hotel room at the Grove Resort and Water Park in Winter Garden, an Orlando suburb located on the south side of Lake Apopka.
Stephan confirmed that she "borrowed" the juvenile alligator without bothering to get permission from Croc Encounters owners. She said she planned on taking photos with the gator for her birthday. A friend told officials that she bragged about having a surprise for everyone shortly after she returned to her Winter Garden hotel room after successfully snatching the alligator.
The outlaw alligator-liberator told the sheriff's deputies she still had a set of keys to the wildlife park and used them to kidnap/borrow the alligator. She then made the one-hour trek to the Winter Park resort and put it in a bathtub.
FWC agents were able to lend a hand and successfully retrieve the missing alligator without further incident. They did note that the gator was "cold to the touch" from being housed in a bathtub filled with cold water.
Fortunately for Stephan, her former employees declined to press charges. Hopefully, they remembered to retrieve their keys from her.
It remains unclear who reported Stephan to the authorities.
Copyright 2023, NewsSpace.com