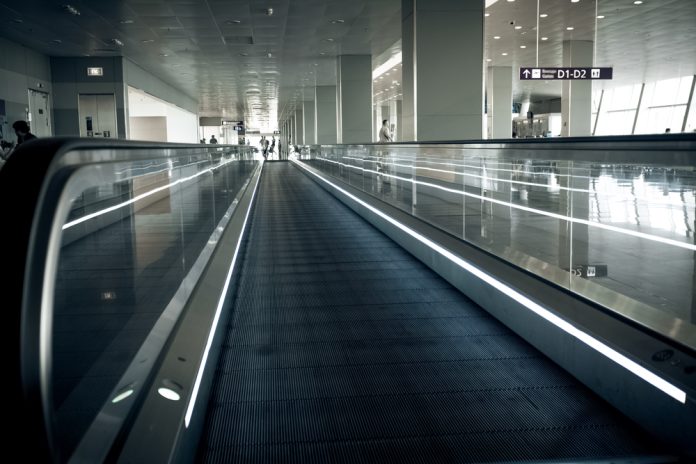 (NewsSpace.com) – Most airports are very busy, and to make things easier on some travelers, they have installed equipment such as travelators — moving walkways that resemble flat escalators. While an innovative way to help guests get from one area to another, they're not without fault. Sometimes, they malfunction and stop working, and sometimes things go even more horribly wrong. Such was the case recently in a Bangkok, Thailand, airport.
On Thursday, June 29, an unnamed 57-year-old woman was on the travelator at Don Mueang International Airport when she tripped over her suitcase. What should have been, at most, a minor injury, turned into a nightmare for the traveler. Her leg was drawn into the walkway's mechanism at the end, and she was trapped. Medical professionals on the scene had to amputate part of her leg in order to free her.
A Thai woman's leg had to be amputated at the knee after it became trapped in a moving walkway at an international airport in Bangkok, officials say. https://t.co/UnH7pcSz5p

— NBC News (@NBCNews) June 30, 2023
The woman was then taken to two different hospitals. When doctors at the first facility said they couldn't reattach it, she requested a transfer to another hospital in hopes of a second opinion. They were unable to help her, as well.
Following the accident, the travelators in the airport were shut down pending inspection. Officials promised strict penalties if a special committee assigned to investigate the accident found that negligence was involved.
According to The Washington Post, the airport director, Karun Thanakuljeerapat, said authorities were going to cover the traveler's expenses, including medical care and compensation for the injury. He noted that the current travelator had been installed in 1996 and that there were plans to replace it in two years.
This isn't the only story of a travelator malfunctioning at the Don Mueang Airport. In 2019, a man's shoe was caught and shredded in the machine. Still, while such occurrences are rare, travelers should take the proper precautions while using them and escalators at an airport to help prevent injury.
Copyright 2023, NewsSpace.com