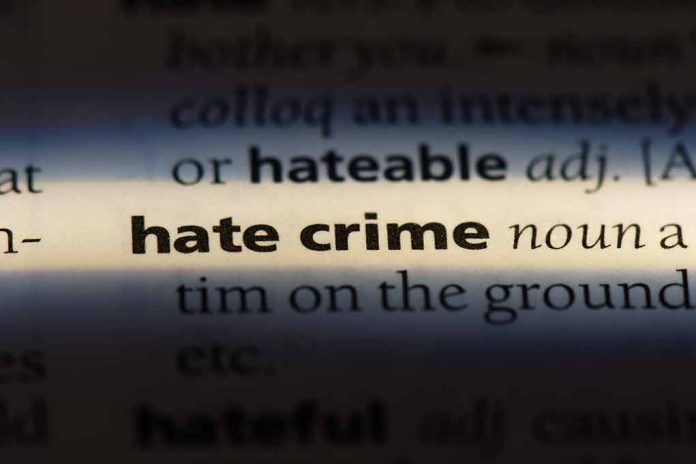 (NewsSpace.com) – The Israel-Hamas war has sparked a lot of global tension. It's also created a hostile environment for supporters of either side who have found themselves under attack for no reason other than their religion or nationality and for using their voice to speak out. The New York Police Department (NYPD) is now investigating a possible hate crime that occurred recently in Brooklyn.
Ashish Prashar, 40, was at a basketball court with his 18-month-old son when he said a woman began yelling at him. He believes his toddler engaged the woman's child, which made her take notice of Prashar's scarf, a traditional Arab accessory known as a keffiyeh. He grabbed his phone and began to record the incident.
The video footage making the rounds shows the woman screaming and throwing things, including hot coffee that narrowly missed his son, at Prashar. She also lobbed her phone at him, and Prashar can be heard saying, "I'm wearing a scarf, and I'm getting attacked because I'm a terrorist." He says his main goal was to keep his boy safe. Prior to the footage, Prashar alleges the woman had instigated the attack, saying he didn't belong there (at the basketball court) because he was a terrorist. Then it escalated from there. He's calling for local leaders to do more.
The NYPD is looking into the incident and notes it may be a possible bias incident, which is "motivated in whole or substantial part" because of a "particular race, color, religion, ethnicity, gender, age, disability, ancestry, national origin, or sexual orientation." Authorities are asking the public for help identifying the woman in the video.
According to the NYPD, the number of bias incidents it investigated in October was up 124%. There were 101 that month versus 45 the month prior. Additionally, anti-Jewish incidents were up by 214%, with 69 in October, up from 22 in September.
Copyright 2023, NewsSpace.com