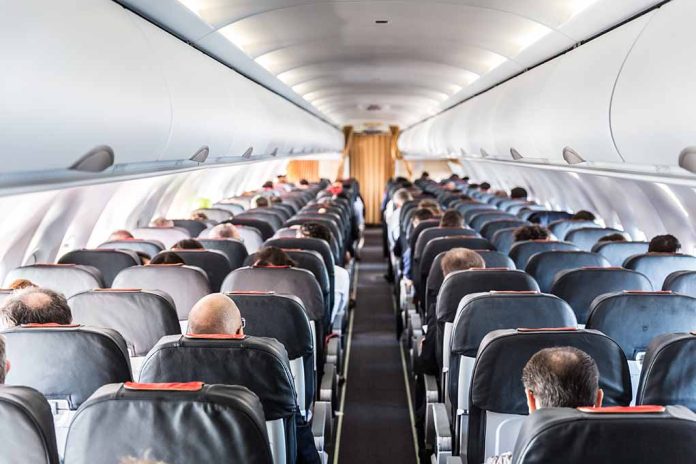 (NewsSpace.com) – Since the 9/11 attack on US soil that involved hijacking planes, airports have been more stringent about security. Passengers go through multiple checks to ensure they don't pose a risk to others, and any unattended packages or luggage are quickly confiscated. However, sometimes ordinary everyday items render people suspicious, and that's what recently happened on a Copa Airlines flight.
On Friday, October 13, Flight CM393 was headed from Panama City to Tampa, Florida, when someone discovered what they thought was a bomb in the airplane's restroom. The pilot quickly turned the plane around and returned to its origin, notifying civil aviation authorities of the situation.
When the flight landed, the 144 passengers onboard were quickly whisked off so authorities could investigate. They soon located the source of suspicion — an adult diaper. The local police posted pictures of the item on X, the social media platform formerly known as Twitter.
Luego de una alerta por el @aacivilpty, de un objeto extraño en una aerolínea las unidades de Fuerzas Especiales activaron el protocolo de emergencia y al ser verificado resultó ser un pañal desechable de adulto. #Prevención pic.twitter.com/n3pBqQZki9

— Policía Nacional (@ProtegeryServir) October 13, 2023
Speaking with The Associated Press, José Castro, who heads the airport's security team, said the aircraft was moved to a "secure runway where police special explosive canine units and special forces examined the object […] ruling out any risk."
There have been similar incidents in the past that have sparked flights to turn around. In 2015, passengers on an Air France flight were left scrambling when a mass of papers, cardboard, and a timer was suspected to be a bomb. That flight, which was headed to Paris, was diverted to Mombasa, Kenya. Fortunately, it was a false alarm, and several passengers were questioned about it.
Earlier this year, another threat in the US forced a pilot to divert from their path when a passenger onboard sent threatening messages via Apple's AirDrop feature, causing some of those on the plane to freak out. It was headed to Maui from Las Vegas but had to make an emergency stop in Oakland, California.
Copyright 2023, NewsSpace.com