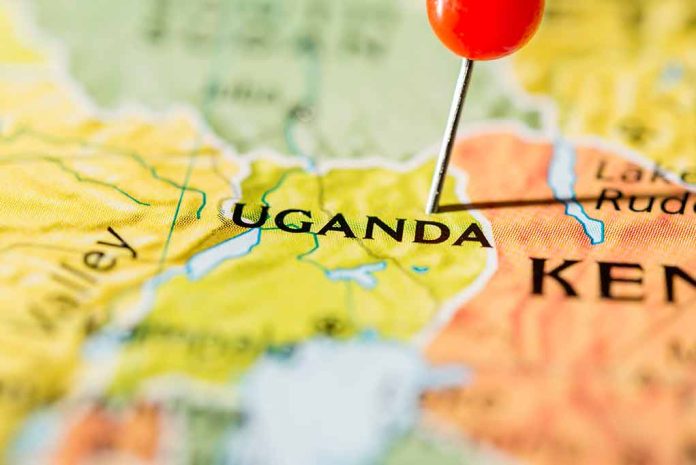 (NewsSpace.com) – Crimes against children are some of the most atrocious that one can perpetrate, yet they're all too common. A couple living in Uganda recently pleaded not guilty to charges of aggravated child trafficking and aggravated child torture for their treatment of a 10-year-old boy they were fostering, opting to accept responsibility for a lesser charge. They must now pay fines associated with their crimes, according to their plea deal.
The story of Nicholas Spencer and Mackenzie Leigh Mathias Spencer begins on December 9, 2022, when they were first arrested in Uganda and remanded to a maximum security prison. The two were accused of "constantly" torturing 10-year-old Kayima John to the point that neighbors intervened and called authorities.
Some of the disturbing behavior outlined included keeping the boy naked and barefoot all day, making him "squat in an awkward position," sleeping on a wooden platform instead of a bed, and feeding him cold food. The couple remained behind bars until they were granted bail in March after claiming they had medical conditions that could not be adequately treated in jail.
The charges against the Spencers carried life in prison and death penalty sentences, which they would have been facing had they not pleaded down. Instead, Mrs. Spencer entered a guilty plea to the charge of inflicting cruel, inhuman, and degrading treatment, while Mr. Spencer pleaded guilty to a single count of child neglect.
Both will have to pay tens of thousands of dollars in fines and restitution to the boy they are accused of harming. In her ruling, High Court Judge Alice Kyomuhangi noted that the child had lost his father and his mother had abandoned him, but the couple "failed to manage his peculiar behaviors."
In addition to the child neglect and cruel treatment charges, both were also found to have been in the country illegally. They arrived in Uganda in 2017, but their work visas subsequently expired. They were also fined for this charge.
Copyright 2023, NewsSpace.com