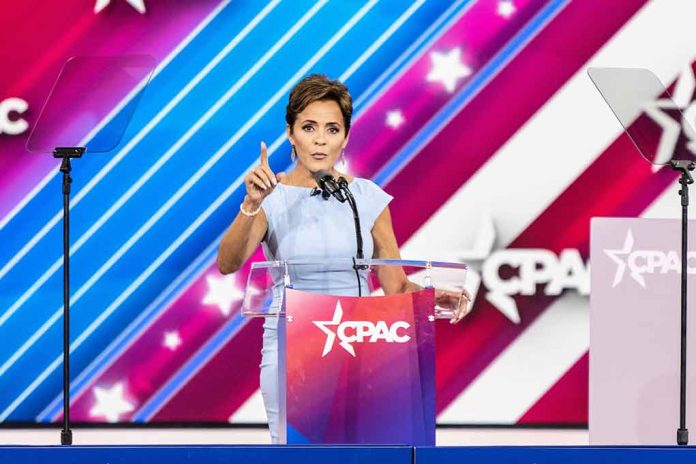 (NewsSpace.com) – Kari Lake made headlines during the midterm elections when she was running for Arizona governor. A staunch conservative she echoed many of former President Donald Trump's sentiments about the 2020 elections, but she lost the race to Katie Hobbs, a Democrat. Lake then proceeded to file numerous lawsuits, saying she was the rightful winner. She lost all of the suits. Now, she is reportedly thinking about running for the US Senate.
According to The Wall Street Journal, Lake is attending an October 10 rally, where she will announce that she is running for the US Senate seat currently occupied by Kyrsten Sinema (I-AZ). If she does, that will set the stage for a potential three-party race. Democrat Ruben Gallego is likely to run, and while there are no confirmations from Sinema that she will enter the race as an independent, her team is reportedly working on establishing the base for it. Lake is hoping to win over the voters who take issue with the way Gallego and Sinema have voted in the past.
In making her announcement, Lake said the country "need[s] to get a senator in there who is going to fight back and put America first." She is very popular with the Republican voter base and has remained true to her MAGA beliefs. There have even been echoes that she is a consideration for vice president if Trump wins the Republican primary.
There are other Republicans who may toss their hats in for the Senate seat representing Arizona, including Blake Masters, who lost to Sen. Mark Kelly (D), and Pinal County Sheriff Mark Lamb. Both have struggled with their respective campaigns.
Lake struggles with acceptance among long-term Republicans, such as Senate Minority Leader Mitch McConnell (R-KY), who holds the national purse strings and could invest in her campaign to give her a boost. She is hoping to meet with him and others when she visits Washington, DC, the first week of October.
Copyright 2023, NewsSpace.com